By Carlos Guillen
In spite of rather unfavorable economic data on industrial production poster earlier today, it is encouraging to see that equity markets are in the green after a rather negative start to the trading session. While the bulk of the most recent economic data has been holding strongly, this week the numbers have not met expectation, and today industrial production was rather disappointing.
Quite discouragingly, it is becoming apparent that the light at the end of the tunnel is getting dimmer and dimmer. Earlier in today's session, we saw data from the Federal Reserve that showed that industrial production decreased 0.4 percent in October after increasing a negatively revised 0.2 percent (from 0.4 percent) in September, landing worse than the Street's consensus estimate calling for a 0.1 percent increase. Manufacturing, which makes up about 75 percent of total production, declined 0.9 percent last month, reversing the prior month's gain of 0.2 percent and representing the biggest decrease since May 2009. This was quite surprising given that the latest ISM report showed a better than expected expansion in manufacturing in the same time period. However, the latest two regional manufacturing surveys, the Philadelphia Fed and Empire Manufacturing, did report yesterday weakening manufacturing production level, mainly as a result of Sandy. Today the Fed also said the storm cut total production by almost 1 percentage point. Capacity utilization, which measures the extent to which plants are achieving their full potential output, decreased to 77.8 percent in October from the 78.2 percent reached in September; that was below the Street's consensus estimate of 78.3 percent.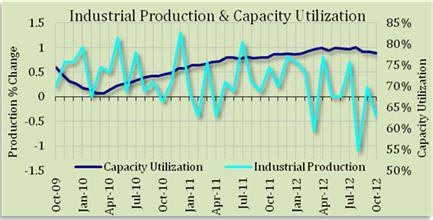 While there have been no definitive agreements reached with respect to the upcoming fiscal cliff scenario, leaders of Congress declared confidence today that they could reach a deal with President Barack Obama to avert these economically detrimental tax increases and budget cuts at the end of the year. This show of willingness to agree has inspired investors and has lifted stocks. While this is certainly encouraging, we would not be so sure if this will hold.
Fuse Almost Lit
David Silver
Tensions in the Middle East continue to be on edge as one of the most polarizing situations (between Israel and the Palestinians) flared up after a four year détente. The media is making a big deal of the fiscal cliff and taxes etc., but I think it is the troubles in Israel that really have pressured the market. There are so many different variables and potentially drastic ramifications from this escalating. The fear is that the civil war in Syria could spill into Israel, that Egypt could break its treaty with Israel, and that a regional war would bring Iran into the ring, and then everything would go to hell. Of course, this seems like one of the worst possible scenarios, but nevertheless, it is spooking the market. There was some breakthrough with fiscal cliff negotiations and the market jumped following that news.
Israel has called up 30,000 reservists and is amassing its troops on the edge of Gaza with the threat of entering. Right now, it is only air strikes and artillery, but government and army officials have indicated that a ground offensive is not out of the realm of possibilities. I have seen a ton of video of the Iron Dome missile system being deployed, and I will say, it is pretty cool. You see two rockets heading towards each other, and then what looks like a firework and the incoming rocket is no more. As of this morning, more than 300 rockets were fired into Israel, with more than 150 of them being shot down by the Iron Dome. That is only with four of the five sites up and running around the Gaza Strip. Israel also has batteries in the Golan (near the Syrian border) and along its northern border with Lebanon.
Egypt is being forced to walk a very thin line as it tries to appease both its people and its treaty with Israel. If the treaty is violated, Egypt wouldn't receive additional financial and military aid from the United States. If Egypt gets into the fray a little more, I say watch out below with respect to the markets, even if we come to some kind of an agreement with the fiscal cliff, or at least kick the can down the road a little bit.