David Silver
We spoke this morning about three potential hurdles for the market to overcome, and judging by the market's reaction today, it seems that at least two are on the way to being handled. The latest bout of weakness in the market was blamed on the fiscal cliff, but the media is reporting that both sides are getting closer. The President over the weekend said he is hopeful a deal will be done before Christmas. So that is a big check in the plus column. I truly hope we get something figured out. As I said this morning, I don't want it to be just a patch or band-aid, this needs to be the beginning of some drastic changes in spending and revenues. The only way we get out of this mess is with changes to both sides of the equation. We have gone over some calculations, and the "Buffet Rule," which is designed for Americans that make more than $1 million dollars a year, would raise enough to pay the interest payments on our debt, that's it. It would affect 0.3% of Americans. I know that is not the only option (and not a complete answer to the problem), but at the same time, raising taxes for people making more than $250,000 isn't either.
It seems that the state of the U.S. economy has taken a backseat to everything else that is going on around the world. However, this morning we got some good news out of the housing market (more on this later in the commentary), and even a strong earnings report from Lowe's (NYSE:LOW). LOW and Home Depot (NYSE:HD) reported strong earnings and strong comps (HD much better than LOW) and most of the benefits came before Sandy and the damage it would cause. I heard on Bloomberg television this morning an economist saying "construction activity will definitely increase following Superstorm Sandy." I am really glad someone took the time to interview an economist to get that quote. That is like saying electricity demand will increase the day after a blackout...
Euro zone finance ministers are meeting on Tuesday to discuss doling out 41.5 billion euros of its latest bailout payment (the original number was 31 billion euros), but the money will only be paid on December 5 if the nation meets all remaining conditions, according to a report from Reuters. European shares added to gains following the report, and the euro rallied to session highs versus the U.S. greenback. So Greece is avoiding default, still a check mark in the positive.
It was such a painful week last week, and many of the pundits were saying that the end is near and running for the hills. However, since the Fiscal Cliff announcement (around 11 AM) on Friday until now, the S&P has erased ALL of those losses (the S&P 500 is now two points higher than where it opened on Monday, November 12).
Home Sales Hold Up, Supply Runs Thin
By David Urani
Today gave us a couple of housing statistics that show more optimism in that industry. Existing home sales for October came in at 4.79 million annually according to the NAR, which was a 2.1% increase month to month and above estimates calling for 4.70 million. Interestingly, the previous month was revised down to 4.69 million from 4.75 million, which means that the Street was actually looking for a slight decline. Each region was up slightly except for the Northeast, which was down 1.7%; encouragingly, that reversed a decline in all regions in September.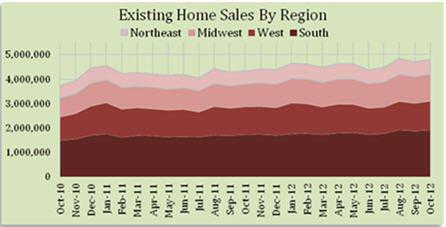 While obviously good that it increased the headline sales result wasn't all that impressive, and still remained below the 4.83 million high from August. Therefore housing stocks weren't moved all that much, and in fact if anything they slipped a little following the release although the Dow Jones US Home Construction Index is up approximately 1% on the day along with the broad market rally.
Maybe the more positive result than sales was existing home inventory, which came down 1.4% month to month to 2.14 million units. In months' supply, that's 5.4 months' worth of homes, the lowest level since February 2006.
And that dovetails nicely with the other housing release of the day, the NAHB Housing Market Index for November. It rose to 46 from 41 and represented the best result since May 2006. While the NAHB index may not be quite as high profile as the existing sales number we still maintain that it's a stat worth watching, as it tends to trend fairly closely to home construction activity. And going back to the fact that both this index and the months of existing supply were both at the best levels since 2006, it's probably not a coincidence; a shorter supply of homes means builders need to get busier.