Carlos Guillen
Equity markets are indicating a move to the upside in pre-market activity with the Dow futures up close to 25 points. With very little in terms of economic data or major news items driving stocks today, we are expecting today's trading session to be rather serene. Of course, the prevailing worries from around the world are still the same, namely the debt situation in Greece, the upcoming Fiscal Cliff here at home, and the conflict in Israel.
The latest with respect to the Greek crisis is that the International Monetary fund will be more lenient in terms of its debt reduction time line, which tends to be an indication that there is a willingness for the organization to reach an agreement, which in turn, will lead to the release of next tranche of fund that Greece so desperately needs. Earlier this week financial entities in Europe failed to reach an agreement on how to reduce the Greek debt burden to an acceptable level, but now there is optimism that an agreement will be reached when these groups meet on Monday. Germany and England are putting up a stink though as not enough of spending cuts have been announced.
In reference to the Fiscal Cliff, Moody's and Fitch Ratings have said that the United States could lose its AAA credit rating, while Standard & Poor's may give the U.S. a second downgrade from AA+, if the fiscal cliff scenario comes to fruition. The most recent estimates from the Congressional Budget Office predict that the Fiscal Cliff would cause the economy to shrink by nearly 4% during the first quarter of 2013, enough to cause a double-dip recession. At the moment, however, markets still believe that policymakers would not be that nuts as to let the economy take a plunge. However, in the small chance that this does take place, we can expect to see stocks take a plunge as well.
Over in Israel, Israeli troops killed a Palestinian man and wounded nine along Gaza's border fence with Israel. This comes after a truce had been reached between Israel and Gaza's Hamas rulers just a day before. However, the incident appears to be isolated and is not likely to undo the agreement, as Hamas Prime Minister, Ismail Haniyeh, has urged militant factions to respect the cease-fire.
Over in Germany, quite surprisingly business confidence rose in November from the lowest in 2 1/2 years, giving some hope that Europe's largest economy may regain some strength. According to The Munich-based Ifo institute, its business climate index climbed to 101.4 from the 100 reached in October, landing above economists' estimates calling for drop to 99.5 and representing the first gain in eight months. Also in Europe's second largest economy, French industrial confidence climbed from the lowest in more than three years.
Sentiment among factory executives rose to 88 in November after falling to 85 in October. Economists had expected a reading of 87.
Despite the rather light news flow and economic indicators, markets are continuing to indicate a rather nice start to today's trading session. However, with our expectations of low trading volumes things could get a bit jittery, so we are taming our positive sentiment a bit for the rest of the day.
Black Friday Race Begins
David Silver
We hope that everyone had an amazing Thanksgiving, and that this morning we are all nursing a nice full belly from last night's turkey extravaganza. Turkey wasn't the only thing that people started going crazy for last night. Today is the official beginning of the holiday shopping season and retailers around the country offered special deals. Last year, there were stampedes as WalMart WMT and Best Buy BBY opened their doors in the wee early hours of the morning. This year, it seems that retailers have learned a little bit of a lesson, as WMT and BBY are now staggering deals throughout the store to prevent stampedes, and also, to keep customers in the store longer. The twitter-sphere is alive with pictures of crowds waiting for electronics, and also random pictures of people falling asleep in aisles (yes, some of them are staged, but one looked legit).
I will say, I do not understand the craze for Black Friday deals, especially since retailers offer deals throughout the holiday season, and some were even offering pre-Black Friday sales. Black Friday, Small Business Saturday (my personal favorite), and cyber Monday (of course, I do nothing for Cyber Monday, I am in work, wink-wink) are only the tip of the iceberg for holiday sales. The estimates say that sales during the holiday season is expected to increase 4.1%, which is lower than last year, but still relatively strong considering the fiscal cliff looming ahead and the number of unemployed in this country. The National Retail Federation said it expects 147 million shoppers to hit the streets over this weekend. I know that my mother and sister partake in the Black Friday craziness down in Philadelphia, and I think my 2 1/2 year old niece is accompanying them this year.
In a completely pointless and unreliable "exit poll" Bloomberg's Sheila Dharmarajan tweets out a picture of the 34th Street Partnership's "Annual Black Friday Shopping Bag Poll" which measures the number of folks with shopping bags compared to a year ago at exactly the same time. It looks like we are trailing behind last year's figures just a bit. That man right in front of the picture is either so disappointed that we are falling behind last year's tally and worried about the Fiscal Cliff, or he is just tired and overwhelmed by the crowds that are shopping in NYC today.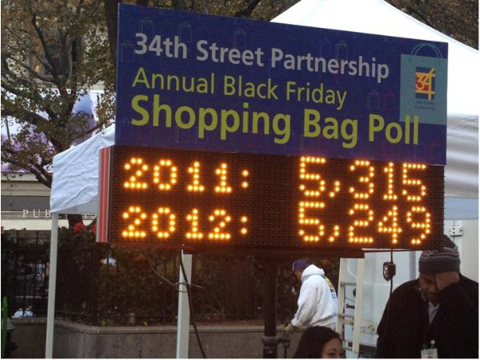 Note: stock exchanges will close today at one, and therefore there will be no afternoon report. We hope everyone had a Happy Thanksgiving!