Carlos Guillen
Equity markets are reacting quite nicely to the slew of economic data presented earlier today. Well ... let's see; jobs are continuing to be added to the economy; businesses are benefiting from increasing productivity and decreasing unit labor costs; orders for consumer goods and capital goods continue to increase; and economic activity in the non-manufacturing sector continues expanding.
This morning's ADP report was rather concerning, but everyone will be looking at Friday's jobs numbers for a clearer snapshot of the current employment situation. According to ADP, 118,000 private sector jobs were gained during November, below the Street's consensus estimate calling for a gain of 125,000 jobs and significantly below the 157,000 added jobs in the prior month. The data showed that payroll gains were predominantly driven by large businesses, which added 66,000 jobs. Small and medium-sized business payrolls increased by 19,000 and 33,000, respectively. As usual, most of the added jobs came from the services sector, which ADP said added 114,000 jobs, while the goods-producing sector experienced a gain of 4,000 positions. Part of the reason why the nonfarm result missed expectations was that super-storm Sandy caused a large disturbance on the jobs market; in fact, it is estimated that 86,000 jobs could have been added to the actual result had it not been for Sandy. Moreover, in light of the current fiscal cliff dilemma, businesses are still not derailing from their hiring activities. Also a bit encouraging was that November represented the 33rd consecutive month in which jobs were added to the economy, and year to date, the average employment gain is 135,000. Nonetheless, given the data noise created by Sandy, the government's jobs data for November are likely to also land below expectations when they come out this Friday. At the moment, economists are predicting that private sector businesses will have added 120,000 jobs in November, and the unemployment rate will likely rise a bit to 8.0% from 7.9%. Sandy is expected to have an adverse effect to the tune of between 50,000 and 100,000 jobs for the month of November.

Perhaps also reflecting the improvements in the work force was that labor productivity continued to increase. According to the Bureau of Labor Statistics, worker productivity rose at an annual rate of 2.9% in the third quarter of this year, landing above the Street's consensus estimate calling for a 2.7% rise. This increase in productivity comes after another rise in the second quarter of 1.9%. However, the increase in productivity may not lead to more hiring in the near term as concerns about slowing global demand and the looming fiscal may prevent businesses from adding more staff. Also discouraging was that unit labor costs in nonfarm businesses declined 1.9% in the third quarter, a sharper drop than the Street's estimate of 0.8% decline. Given that there are still many without jobs, labor costs are likely to continue to decline.
While Monday's data from the Institute for Supply Management (ISM) showed that US economic activity in the manufacturing sector (PMI) contracted in November for the first time in three months, ISM data posted today showed that economic activity in the non-manufacturing sector (NMI) continued expanding during the same time period. The ISM non-manufacturing index increased to 54.7 in November from 54.2 in the prior month, landing higher than the Street's estimate of 53.7 and representing the 35th consecutive month of growth. Rather discouraging, however, was that employment activity in the non-manufacturing sector decreased by 4.6 percentage points to 50.3%, indicating growth in employment for the fourth consecutive month but at a slower rate.

In all, the economic data presented today is overall encouraging and has stocks up sharply higher, with the Dow Jones industrial Average up over 110 points. Of course, things could take a turn for the worse if Friday's jobs numbers come in below expectations.
Factory Orders Improve
David Silver
In a report, the U.S. Census Bureau said factory orders rose by a seasonally adjusted 0.8% in October, compared to expectations for a 0.1% decline. Factory orders in September rose by 4.5%. The figure was revised down from a previously repotted increase of 4.8%. It was a strong report across the board, and while it doesn't show a robust economy, it does show an economy that is shrugging off the potential for a Fiscal Cliff and actually looking towards a stronger 2013. Manufacturing is not nearly as important to the overall economy as it once was, but many of the hopes of the middle class moving forward will be pegged to manufacturing.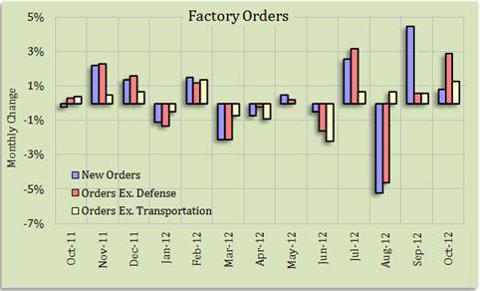 In a sign that Apple (AAPL) has a lot of influence on the market, take a look at the Nasdaq today. The Dow is up more than 100 points, almost 1%, while the Nasdaq is down more than 12 points or about 0.4%. AAPL is coming under more pressure because, despite its huge cash position, it is not paying a special dividend, while at the same time, the 50 and 200 day moving averages are at risk of crossing, which is bearish sign when the stock is falling.