Carlos Guillen
On a slightly positive note, the U.S. trade deficit increased less than expected in October, as exports decreased at a faster pace than imports. This decline in both components is serving to give an indication that overall demand may continue to fall. According to the U.S. Department of Commerce, the trade deficit increased 4.87% to $42.2 billion in October from the $40.3 billion reached in the prior month, landing below the Street's consensus estimate of $42.8 billion. It was rather discouraging to see that both imports and exports declined, in particular that exports declined faster than imports. In terms of the two main components, exports decreased 3.64% to $180.5 billion, as overseas demand ramped lower mainly for industrial supplies and materials; capital goods; and foods, feeds, and beverages. Imports declined 2.13% to $222.8 billion, mainly as domestic demand decreased for consumer goods and automotive products. Clearly Europe's debt crisis and China's slowing growth are still headwinds to net exports in general; while there had been increasing demand from Latin America and from a strong domestic consumer, all this is also now in decline. However, it is worth mentioning that there is a likelihood that super-storm Sandy may have had an adverse effect on the net export result.

Taking a look at the Job Openings and Labor Turnover Summary, or JOLTS report, we can see more jobs available in our economy during October. The highlight of the report was that the number of available jobs in the U.S. increased a bit, helping to assuage the belief of a deteriorating jobs market as companies are likely to cut back openings in the face of slowing global economic growth and the looming so-called Fiscal Cliff of automatic tax increases and government cutbacks. The number of job openings in October was 3.68 million, up from 3.55 million in September, representing a 3.61% increase. At the moment, the number of job openings still remain well below the 4.26 million openings when the recession began in December 2007; however, the number of job openings has increased 68.1% since the end of the recession in June 2009.

Also a bit encouraging was that the number of unemployed per jobs available declined to 3.3 from 3.4. However, most recently this ratio has been held fairly flat, showing very little room for improvement. So while there are fewer layoffs, there is also less hiring going on, and for those that currently have jobs, they are much more unlikely to quit in search for something else.

Small Business Terrified in November
David Urani
That NFIB small business optimism index from Tuesday morning was quite staggering, so we took a deeper look into it. First, here's some perspective; the 5.6 point drop to 87.5 from 93.1 was one of the largest on record, and at this level, the index has only been lower 7 times since it began in 1986. It was the worst result since March 2010. Clearly something scared the pants off of small businesses in November, and given the survey responses, that was quite clearly the election. Of course, the Fiscal Cliff is part of that, but it goes further than that as red tape and taxes stand out in business owners' minds.
Obviously taxes on the "wealthy" was the hot button issue of the election, and one of the main arguments against it is the fact that a huge amount of small businesses categorize themselves in that $250k+ individual bracket. Upon the President's re-election, higher taxes virtually became a certainty and that was clear in the NFIB's survey. When asked what their single most important problem was, 23% of business owners cited taxes, which tied for first place with poor sales.
Alarmingly, small businesses' outlook for general business conditions in the next six months actually fell to an all-time low. Although sales and earnings did take a hit, the reasons for outlooks being worse than ever before go beyond that. When it comes down to it, small businesses now face the prospect that the operating environment will be constrained by the government for another four years, or that it could even become the new standard.
NFIB chief economist Bill Dunkelberg summed it up:
"Something bad happened in November-and based on the NFIB survey data, it wasn't merely Hurricane Sandy. The storm had a significant impact on the economy, no doubt, but it is very clear that a stunning number of owners who expect worse business conditions in six months had far more to do with the decline in small-business confidence. Nearly half of owners are now certain that things will be worse next year than they are now. Washington does not have the needs of small business in mind. Between the looming 'fiscal cliff,' the promise of higher healthcare costs and the endless onslaught of new regulations, owners have found themselves in a state of pessimism. We are forced to ask: is this the new normal?"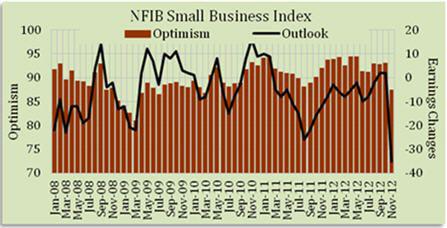 AIG Bailout
David Silver
The United States government may still be in the car business (it still owns approximately 27% of General Motors [GM]), but it got out of the insurance business this morning. It sold the remaining 234 million shares of AIG at a price of $32.50, matching the price that it sold shares at back in September. The transaction is expected to close on Friday. By Treasury's calculation, the final round of sales means the government will have a net positive return on its AIG bailout of $22.7 billion (see chart blow for the breakdown).

AIG's stock jumped as a result of having the government's sale. Some would think the stock would fall as a result of dilution, but now the government is not an owner, and the stock is moving higher. The U.S. committed as much as $182 billion of aid at the peak of the bailout, and Treasury at one point owned more than 90% of AIG. Following the sale of its 234 million common shares-about 15% of AIG's outstanding shares-Treasury said it will continue to hold warrants to purchase about 2.7 million AIG common shares.
The government is out of the insurance business, now we have to get out GM, Ally Financial (formerly GMAC), and some 200+ other smaller banks. The Treasury is quickly winding these programs down. Through TARP, the government outlaid approximately $466 billion, and the Congressional Budget Office said in October that TARP is only expected to cost tax payers $24 billion.