Carlos Guillen
Stocks are having an overall down day despite the rather encouraging economic data and despite the recently announced fourth round of quantitative easing by the Federal Reserve yesterday. The Dow failed to break above resistance and is heading lower. Retail sales reversed to the upside last month and applications for jobless benefits declined further, perhaps signaling that U.S. consumer is still holding strong as the holiday shopping season progresses.
Quite encouraging this morning was that jobs data for the week continued to sharply ramp lower, much better than expected. According to the Department of Labor, initial claims during the week ended December 8 totaled 343,000, decreasing from the 372,000 revised figure reported for the prior week and landing below the Street's estimate of 375,000. It is clear that super-storm Sandy, at the end of October, caused an aberration to the trend in initial claims, and now we are seeing a positive correction to this non-fundamental disturbance. In looking at a more leading economic indicator, we can see that the initial claims' four-week moving average was 381,500, decreasing from the prior week's average of 409,500, representing the first drop in six weeks. If this trend continues, we may be looking at a rather stronger than expected Christmas shopping season.

Also a bit encouraging today, and perhaps influenced by the better than expected improvements in the jobs market, was that retail sales data showed that the consumer is still holding strong. According to the U.S. Census Bureau, retail sales during November increased month-over-month by 0.3%, a bit worse than the Street's consensus estimate calling for a 0.4% increase, but still an improvement from the 0.3% decline in the prior month. Excluding automobile related revenues, retail sales were flat month-over-month, in line with the Street's consensus estimate. Of the thirteen categories that make up the result, ten climbed, led by a 3.0% increase in non-store retailers and a 2.5% rise in electronics and appliance stores. Moreover, Northeast residents sought replacements for autos damaged by super-storm Sandy, leading to an increase in automotive category by 1.4%. Given the importance of consumer spending, as it represents 70% of gross domestic product (GPD), the rise in retail sales may help to assuage the believe the GDP growth in the fourth quarter may not come in as strong as many expect.

The Dow has been in decline more for most of the mornings and is currently down over 50 points. It is very surprising that stocks have not been able to gain steam after the Fed's decision to provide another round of quantitative easing yesterday, but perhaps market have been a bit spooked by the rather negative comments from Ben that the economy is not expected to improve significantly even if the fiscal cliff becomes just a pot hole on the road.
Economic Data Galore
David Silver
Retail Sales
Retail sales rose 0.3%, rebounding from a 0.3% decline in October, the Commerce Department said on Thursday. The Street was expecting an increase of 0.5%. Consumers kicked off the holiday season by shopping at car dealers, electronics stores and on the internet, but spent less at gas stations. Americans spent 4% less at gas stations, the largest decline in almost four years. While this drop could allude to negative for the economy as a whole, it definitely helps Americans' wallets as the price of gasoline fell during the month, despite the fuel shortage in the North east. A separate measure of retail sales, which strips out automobiles, gasoline and building materials, rose a more healthy 0.5%. This core reading more closely follows the government's gauge of consumer spending, which is a major component of economic growth.
It shouldn't come as that much of a surprise at the headline figure for retail sales, as auto sales had the best month since 2008 during November. Superstorm Sandy, which struck the Northeast in late October, had a mixed effect on November retail sales, the Commerce Department said. Store closures due to damage, power outages and flooding were a drag on sales, but other retailers saw spending increase as residents sought to rebuild and restock after the storm.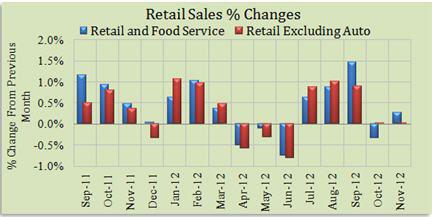 PPI
The Labor Department said that U.S. wholesale prices dropped 0.8% in November as gasoline prices plunged 10.1%, their sharpest drop since March 2009. The price report, which showed little inflation pressure building in the U.S. economy, gives the U.S. Federal Reserve room to continue with stimulus programs aimed at bringing down the unemployment rate. The core figure, which excludes food and energy costs, increased just 0.1% and was in line with the Street's forecasts.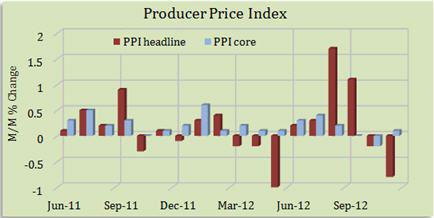 So let's take a second to digest what has happened over the past 24 hours. First, Federal Reserve Chairman Ben Bernanke issues QE 4-ever, which on top of QFinity, brings the monthly total for the Fed to $85 billion. Mr. Bernanke is alluding to a dismal economy that will need help to get back on its feet for the next three years. Then we have initial claims, retail sales, and PPI this morning, all for the most part coming in better than expects. The retail sales headline was below expectation, but taking out autos, gasoline, and building materials was in line with what the Street was expecting. So in our consumer driven economy, sales, despite Sandy help up strong, we had fewer initial claims, and inflation remains low, but still we are going to need help from the government for the next three years.