Congress is in session for the final day of the year as crunch time negotiations take place. Its high pressure, high stakes, and highly uncertain, and therefore, the market isn't quite sure what to think. Various lawmakers are restating that they expect to make a deal, but really at this point, it seems like a coin flip. It's all about rumors and hearsay until we get the final verdict sometime later today.
That being said, leaders on either side are apparently getting close. It's looking like the Democrats will accept a "rich" threshold of $450,000 rather than their preferred $250,000, although the GOP is said to be pushing for $550,000; if that's the case they aren't too far apart here. However, the Democrats are said to want raised capital gains and dividend taxes for those making $250,000 and above.
The spending side is less clear, but the prevailing rumor is that the Democrats want to delay the sequester until 2015 while extending unemployment benefits and preventing a 27% reduction in Medicare payments to doctors. Subsequently, the GOP would like to find spending cuts to make up for the delay, which is said to cost $200 billion through 2015.
Sounds like some form of progress, but in the end, the market is still as unsure as ever as to whether or not we will get something done today. Brace for high volatility and possibly some wild gyrations through the rest of the day as the rumors come in and the deadline nears.
China Regains its Footing
While the circus in Washington goes on, the big data today is out of China, where optimism continues to build. HSBC's index of manufacturing hit a reading of 51.5, which not only indicates a second month in a row in positive territory (above 50 indicates growth), but it was the best result in 19 months.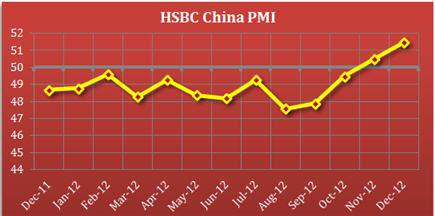 At the same time, iron ore prices reportedly rose to an 8-month high in December as inventories in China show signs of dwindling. During the month, iron ore price rose by $30 to $144.90 per tonne, which was the biggest one-month gain since records began in 2009.
And so the big rebound in the Shanghai market continues, having risen by more than 15% since hitting a multi-year low earlier this month.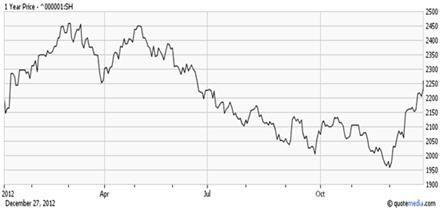 Note: We wish everyone a very Happy and Healthy New Year.