By Carlos Guillen
Equity markets have been holding on to the gains posted early in the trading session, mostly fueled by the culmination of the self imposed Fiscal Cliff dilemma. In sum, couples making more than $450,000 a year will see their tax rate rise to 39.6 percent. In exchange for the largest tax hike in decades, there will be $1 of spending cuts for every $41 of increased revenue. Now that this is behind us, stocks are now ready to trade on true fundamentals.
One important fundamental bit of economic data out today was the Institute for Supply Management (ISM) Purchasing Managers' index (PMI), considered by many to be a very important health indicator of the manufacturing industry here at home. PMI in December clocked in at a rather encouraging 50.7 percent, landing above the 50.5 percent consensus estimate and increasing from the 49.5 percent reported for the prior month. Given that a reading above 50 percent indicates the manufacturing economy is generally expanding, this PMI result puts us back in growth mode. Moreover, given that a PMI over 42.6 percent, over a period of time, generally indicates overall economic expansion, the result also indicates the 43rd consecutive month of overall economy growth.
On the other hand, new orders in the ISM report, considered to be an important leading indicator, did not show an improvement. In fact, new orders in December remained flat at 50.3; however, this metric remained in growth mode for the fourth consecutive month. More encouraging, however, was that the Employment Index registered at 52.7 percent, an increase of 4.3 percentage points, after losing 3.7 points last month. It is evident that the housing rebound here at home and the stabilizing overseas markets are helping to provide support for factory orders in the U.S. and keeping manufacturing from declining.

In all, the manufacturing data posted today from around the world is painting a picture struggling growth in the short run, but it is giving some hope that a bottom may have been reached, which in turn gives more hope that 2013 may be a year of modest global growth improvement.
World Manufacturing Warming Up
David Urani
Today was Markit and HSBC's update on world manufacturing conditions for December and in general you could take a positive view of it. On Monday we received the reading for China which firmed up to 51.5 from 50.5, and represented the best level in 19 months. Today we got follow-up readings from the Eurozone and the USA. Unfortunately, the Eurozone appears to still be stuck in a rut with a reading of 46.1 versus 46.2 in November (readings below 50 indicate contraction). That came no thanks to a poor reading from Germany which dropped to 46.0 from 46.8. But the USA reading, like China, showed more improvement, up to 54.0 from 52.8 and the best reading since April.
We were also encouraged by other readings throughout Asia that reaffirm that the increase in China is legitimate. South Korea was up to 50.1 from 48.2 and Taiwan was up to 50.6 from 47.4. India also ticked up to 54.7 from 53.7. While Europe remains a dark spot, there's a chance that the recoveries in China and the USA help to lift it to an extent by boosting world trade.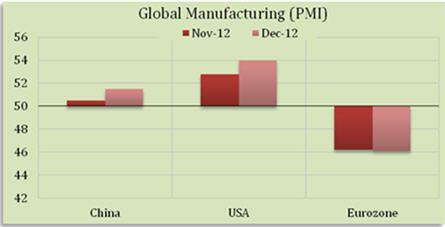 Of course we also got the December ISM manufacturing index for the USA today, separate from the above mentioned HSBC reading. It showed a rebound back into positive territory, to 50.7 from 49.5; the consensus had called for 50.5. Two of the bigger components were somewhat lukewarm, with production at 52.6 from 53.7 and with new orders staying flat at 50.3, just barely in positive territory (above 50). Encouragingly, employment recovered to 52.7 after dipping to 48.4 in November.
Not a blowout result from ISM, but in tandem with the HSBC reading we can feel relieved that US manufacturing looks to have awakened in December, if only modestly.