Carlos Guillen
Equity markets have made a rather encouraging move to the upside after aluminum maker Alcoa gave hope that the economy may grow at a faster pace than expected in 2013.
Now that earnings season has arrived, investors will be focused on bellwethers such as Alcoa, which last night reported fourth quarter adjusted earnings that matched estimates and revenue that was well above forecasts. More encouraging, however, was that the company also said it expects the pace of aluminum demand growth in 2013 to increase from 2012; that is it expects aluminum demand growth of 7 percent in 2013 versus 6 percent in 2012. The company also projected global growth in the aerospace (9-10 percent), automotive (1-4 percent), commercial transportation (2-7 percent), packaging (2-3 percent), building and construction (4-5 percent), and industrial gas turbine (3-5 percent) markets.
While Alcoa's financial result have done little to lift its own stock significantly today, it has been able to enthuse investors into buying equities based on a rather encouraging outlook for the global economy. On the other hand, as it has been well established, there is very little correlation between Alcoa's financial results and those reported during earnings season, so this will not change the rather depressed expectations for the fourth quarter.
Another bit of encouragement was that hard-disk-drive maker Seagate Technology raised its revenue outlook for its fiscal second-quarter. The company announced last night that it expects to report revenue of at least $3.6 billion, which was above the Street's consensus estimate of $3.52 billion, as demand ramped higher while it maintained market share. This announcement had shares of the company up over 4 percent, also lifting shares of its rival Western Digital up over 3.5 percent.
At the moment there is very little in terms of economic news, and equity markets are continuing to hold on to its gains, with the Dow Jones Industrial Average currently up over 50 points or 0.4 percent. Tomorrow should be more interesting in terms of economic indicators, with initial claims and wholesale inventories data released in the morning.
Consumer Credit Fueled by the Feds
David Urani
Consumer credit numbers are out for November from the Federal Reserve, and for the month total outstanding credit increased by $16.0 billion, well above the $13.2 billion consensus. $15.2 billion of that was non-revolving credit (student and auto loans) and just $817 million was revolving (credit cards). That puts the total amount of consumer credit at $2.8 trillion. $5 billion of the monthly increase came from the federal government which takes me to an interesting point. From the end of 2011 through November, total consumer credit increased by $120 billion while $104 billion of that increase came from the federal government. That means 87% of the entire increase in consumer credit in 2012 (through November) came from the government! And as we know, the vast majority of the government's credit is student loans. As you can see, that figure has exploded ever since President Obama took office.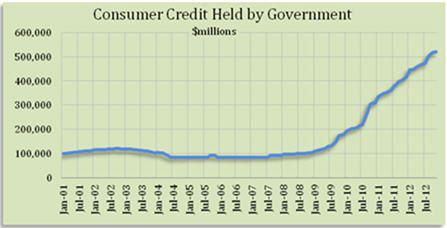 Here's where it gets interesting, student loan debt is now just over $1 trillion in total, more than half of which is held by the government and growing. But student loans aren't doing so hot. Not only do a large proportion of students lent to not graduate, but the ones who do are facing a difficult economy in which they are either unemployed or under-employed based on their qualifications. The average college grad left college with $28,700 of student loan debt. In the third quarter of 2012, seriously delinquent student loans (90+ days) spiked up from 8.9% of the total to 11%.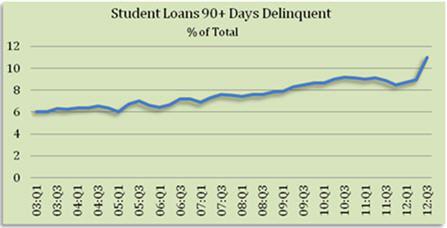 So we've got a growing debt bubble of ill-advised loans made to people who can't afford it. Sounds like something Wall Street did not too long ago, doesn't it?