The market begins the session with a whimper, and that's not such a bad thing. Last week stocks came out of the gate with gusto in a combination of excitement over the temporary resolution of one cliff issue and hope this could be the year when we go beyond green shoots. By the same token the set-up is positive.
Expectations are low for corporate earnings and macro economic growth. The only places there might be too much enthusiasm are housing and automotive.
Bonds are beginning to falter, and while predicting their demise has been the wrong prediction for thirty years it's a lay-up to say there is very little upside and a ton of downside to owning bonds from here on.
The Dollar is beginning to slip as the Euro is now at a 9-month high and looking strong as Europe continues to pull the rug over its problems and perhaps wool over their own eyes.
The global economy is still the core of my belief for owning stocks. Forget Paris, unless it's a vacation destination (I never liked it but my wife loves the place), and the rest of the Continent and think Turkey, Mexico, Panama, Chile, Indonesia ... think "Global Economy," not just America and Europe.
On that note the trade deficit came in worse than expected at $48.7 billion the widest gap since April of last year.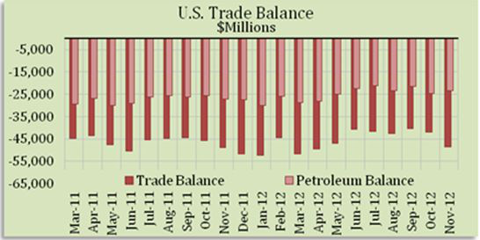 Despite my enthusiasm and excitement, we are taking care to book profits, even on names we love six months or two years down the road. I do worry about volatility. I do worry about money-printing. I do worry about the war on success that puts "fairness" ahead of results-oriented success that's fueled the nation's rise to greatness. I worry environmentalists have a bigger voice in the White House than small businesses. I worry about the abandonment of God and belief in each other and one's own ability to get ahead.
There are longer term issues to worry about big time but right now I think 2013 could be big for making money in the stock market. Not a walk in the park, not without drama, but a focused effort on value and timing should create a lot of fortune. And on that note we are not forcing any new ideas at this moment, there are a ton of ideas we are researching, however.
https://www.wstreet.com/user/register.asp?source=3