By Carlos Guillen
Equity markets are on a nice uptick so far during today's trading session, for the fifth consecutive day, as two favorable forward looking economic indicators have come together to signal a rather encouraging short term outlook.
Initial Claims data posted earlier today was a certainly encouraging, as the result was better than expected, continuing the sharp reversal made last week. According to the Department of Labor, initial claims during the week ended January 19 totaled 330,000, decreasing from the 335,000 revised figure reported for the prior week and landing below the Street's estimate of 355,000. This result marked the lowest level since January 19, 2008 when initial claims clocked in at 318,000 and may continue to assuage investors' concerns that the jobs situation may have been worsening. On the other hand, if you believe that the numbers are fishy, you would not be alone (read further below). Notwithstanding, the initial claims' four-week moving average was 351,750, decreasing from the prior week's average of 360,000. As it stands, economists estimate that initial claims below 350,000 a week indicate strong job growth. But the numbers can vary widely from week to week, so we would prefer to see the moving average land below the 350,000 to have more confidence that there indeed is job growth. We should note that whether claims are low based on job expansion or not is debatable; however, the U.S. added 155,000 jobs in December on top of a 161,000 gain the prior month, so the recent gains have been able to stem initial claims over the last few months.

Another report showed that the index of leading indicators improved and appears to be maintaining a favorable short term uptrend, signaling that the stronger housing and job markets are helping the U.S. economy make more progress in the first half of 2013. According to the Conference Board, its Leading Economic Index (LEI) during December increased month-over-month by 0.5 percent to 93.9, in line with the Street's consensus estimate. Somewhat favorable was that of the ten components that make up the leading indicator, 5 were positive in December compared to 5 positive components in November. The positive contributors were the average weekly initial claims, the interest rate spread, the Leading Credit Index, stock prices, and building permits. The slow but still up-trending results are indicating that the recovery is still continuing; moreover, given that housing and hiring usually pick up in March, it is becoming apparent that there will be more forces lifting the economy further.

In all, the data presented today is encouraging, and as a result, equity markets are continuing to ramp higher, with the Dow Jones Industrial Average gaining over 40 points. We should note that this uptick comes in spite of the fact that Apple shares are down over 11 percent. Overall, the companies that have reported so far have delivered better than expected results, and this is also helping to mitigate the sharp drop in Apple's stock today.
Jobless Trend: Great but Flimsy
David Urani
Alas, jobless claims, in normal times they are one of my favorite economic indicators, but lately I just can't bring myself to trust the numbers. I'm not trying to be a downer over what has been an encouraging reported drop in the newly unemployed, but it's my job to filter out things that I find fishy and call it how I see it.
And the way I see it, jobless claims have been virtually untrustworthy for the past two months due to seasonal factors, a hurricane, holidays, government incompetence, and taxes. That big spike at the beginning of November was Hurricane Sandy. I suppose the result may have been "real," but it's a one-time event that's probably not indicative of the underlying economy. And then of course a couple weeks after that you have Thanksgiving; not only does the Labor Department not have a complete week of data to make proper seasonal adjustments, but it also doesn't make companies feel too fuzzy to let go of people during the holiday.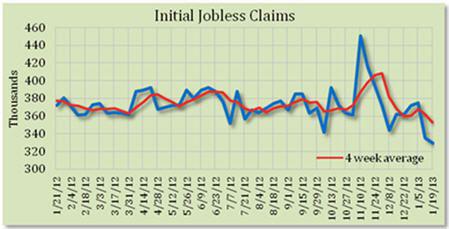 And that led straight into December. The holiday season is already different and possibly hard to adjust to for the Labor Department analysts because of businesses loading up on employees temporarily to gear up for holiday spending. But add to that the uber-hyped fears of the Fiscal Cliff and the ensuing tax changes, and businesses may have been left unsure what to do with their employee headcount heading into the New Year. Obviously there's the Christmas week itself as well, which is another holiday-shortened week that bosses don't like to fire on, followed by the New Year holiday week.
That brings us to the latest reading, where the Department of Labor says that California, Virginia and Hawaii numbers were "estimated" due to the MLK holiday. California is quite a large state to estimate, and that reminds one that the full MLK-shortened week will be reported next Thursday and will be somewhat unreliable as well.
So there you go, with all those exceptions for the past couple of months it's hard to take this data too seriously. That is not to say that I think the reality is worse than reported, in fact given recent developments in the economy I think claims may very well be on a downtrend. But I would call the past several weeks' results ballpark figures rather than the usual solid economic indicator that is initial claims.