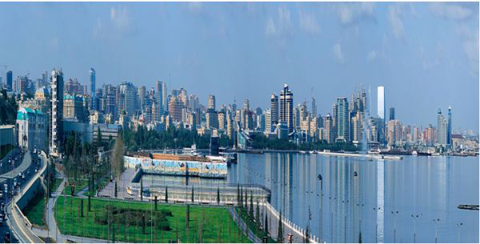 There are periodicals that can help you navigate the stock market. Some are traditional like the Wall Street Journal, and some are anecdotal like Car & Driver. But these days an even wider breadth of names can either help you with the market or at least buy into the notion the stock market rally is legitimate. Take for instance Travel & Leisure magazine. In the current issue there's an article on great hotels in Baku, the capital of Azerbaijan.
Baku is yet another city in the world that few Americans (including myself) have ever heard of, yet it's an amazing city with history but more importantly with a future.
Once a part of the USSR, Azerbaijan is on the rise, once again because of its oil, but this time the locals will probably be enriched like never before. You see, oil was actually discovered in Baku in 1846 and large scale production began on 1872. That brought a flood of international investors from all over the western world including the UK, Switzerland, Belgium, Germany, Sweden and America. In fact, among the famous names to get a piece of the action were the Nobel Brothers and Rothschild.
By the turn of the century half the oil extracted in the world came from Baku.
Travel & Leisure
The capital of Azerbaijan has long been a stomping ground for oil-industry tycoons. And with a surge of glam hotels hitting the scene, it's hoping to become the next destination for the Vuitton set. Here, five notable newcomers.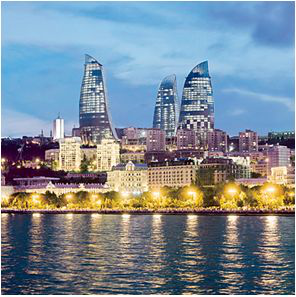 The above caption began the article that included the new Fairmont that will have a multiplex, four restaurants, designer stores, an 18-room spa Espa, and a Four Seasons with a lounge serving 50 types of whiskey, and a walk-in humidor for rare Cuban cigars.
There is no way this kind of development could have happened under the old communist system and it could become rare in America if the fallacy that food stamps and welfare generate prosperity and entitlements give people courage to start businesses. Be that as it may, there is a boom in Azerbaijan and there are booms all over the planet. This boom is being mirrored all over the planet in scores of cities that Americans have never heard of or places we long ago wrote off.
All of this wealth creates opportunities for American companies. It creates consumer demand for American products and demand for American know-how.
I realize the US economy is nowhere near the hype of the media and White House. It's not even hard to see things haven't improved very much. Poor neighborhoods are poor and there are plenty of vacancies in rich areas that I've seen for myself from Palm Beach to Wilshire Boulevard. We aren't technically in a recession, but we are stalled as the rest of the world (outside those former European Empires and Japan all anchored by socialist policies or welfare programs that sap all fresh capital and call for high taxes and regulatory burdens to keep afloat) reaches heights never seen before.
The global economic backdrop gives credence to the stock market rally. The skyline of Baku and Panama City and other cities we've never heard of or think are stuck in a different century add credence to the stock market. The greatest threat, in fact, to the stock market rally is any hiccup in our fragile recovery. Longer term there is no doubt America cannot survive by taking from successful people ostensibly to give that money to lesser off people but in reality funding a government that is nothing short of a behemoth.
We can't make success unattractive to the lazy and not-so-lazy alike. In the meantime, the Fed must stop printing money yesterday. These are core problems that will eventually negate even the boom in global prosperity. I don't see that happening in 2013 but make no mistake it's going to happen sooner or later.