Equity markets are making a rather surprising move to the upside today as better than expected economic data from housing and consumer confidence have enthused investors back into buying stocks. While there have been some jitters as a result of Fed Chairman Bernanke providing his semi-annual testimony on the economy and monetary policy, stocks are partially offsetting some of the loses that were experienced yesterday, when the Dow Jones Industrial Average lost 216 points.
One positive bit of economic data today was that new single-family home sales landed better than expected in January. According to the U.S. Census Bureau, new home sales during January increased year-over-year by 28.9 percent and increased month-over-month by 15.6 percent to 437,000 (annualized), landing higher than the Street's consensus estimate of 383,000. While a longer term view still shows that new home sales are at depressed levels, it is encouraging to see the small but consistent up trend in recent times. A strengthening housing sector is essential for an improving economy as it also reflects how confident consumers are about the future.
Also very encouraging today was data from the Conference Board, as it showed that consumer confidence jumped much higher than expected. According to the Conference Board, its consumer confidence index spiked to 69.6 in February from 58.4 in the prior month, landing well above the Street's consensus estimate of 62.0. The result served to corroborate the data published by the University of Michigan 11 days ago, which also showed a rather encouraging surprise, as the University of Michigan Consumer Sentiment February preliminary result landed at 76.3, which was higher than the Street's expectation of 73.5. It is apparent that the main reason for the rather sharp rise in confidence was that the effects of the increase in the payroll tax have diminished. In general consumers' assessment of current business and labor market conditions is more positive than it was last month.
Even more encouraging was that consumers' short term outlook also spiked in February, taking the Expectations Index up to 73.8 from 59.9. In general consumers are cautiously optimistic about the outlook for business and labor market conditions. Income expectations, which last month were negative, have improved this month. The percentage of consumers expecting better business conditions during the next six months increased to 18.9 percent from 15.6 percent; moreover, those anticipating business conditions will worsen to 16.5 percent from 20.4 percent. Consumers' outlook for the labor market improved as well, as those expecting more jobs in the months ahead increased to 16.7 percent from 14.4 percent, while those anticipating fewer jobs declined to 21.5 percent from 26.7 percent. Also encouraging was that the proportion of consumers expecting an increase in their incomes climbed to 15.7 percent from 13.5 percent, while those expecting their incomes to decline fell to 19.6 percent from 23.3 percent.
In all, it is a great day for equity markets, and today's trading session is certainly bringing a sigh of relief after yesterday's rather scary drop in the Dow. The rest of this week promises to be quite eventful as a slew of economic data is scheduled for release including durable goods orders, GDP, and Michigan Sentiment.
Home Sales Surprise
By David Urani
New home sales for January clocked in at 437k annually, which was a 15.6% gain (the largest since 1993), and the highest level of sales since August 2008. Certainly it was a pleasant surprise for the market, which had been expecting just a modest increase to 383k. Gains were seen in all four regions.
I would note that winter readings like this one tend to be a little less reliable considering the big seasonal adjustments involved, so I'm inclined to downplay the magnitude of today's figures. That said, I don't want to detract from what does in fact appear to be a strong number heading into the new year. In a sense, I do wonder how much Fiscal Cliff fears had played in consumers' minds late last year. It would have made sense for potential homebuyers to be reluctant to purchase before having a chance to budget for any potential changes in the tax code which had been unknown at the time. And of course, January may have seen those buyers come back knowing the coast was (relatively) clear.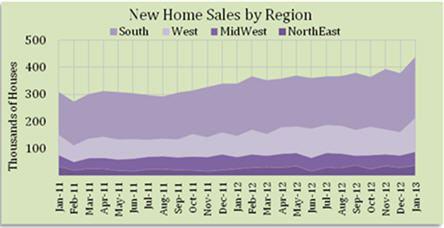 Home prices as measured by the Case-Shiller index rose by a seasonally adjusted 0.9% month to month in December, and were up 6.8% for the year. The annual increase was actually the best since 2006, although prices are still a whole 29% down from the 2006 peak. As usual, I would note that the Case Shiller index is quite a lagging indicator but I feel it's the most accurate, and it's encouraging to see that home prices continued to steadily march higher in December; even on a non-seasonally adjusted basis prices were up 0.2% month to month during a slow winter month.