By Carlos Guillen
Equity markets started the trading session encouragingly higher as investors were enthused by the much better than expected housing data posted in the pre-market hours; however, all the gains were dissipated as news from Cyprus once again served as a reminder that all is not well in Europe and that there is still downside risk that can result from this for all economies.
Clearly, the spike on the Dow Jones Industrial Average index this morning was the result of housing permits and starts data that are maintaining their overall uptrend, providing more evidence that the economy is slowly improving. According to the U.S. Census Bureau, building permits during February increased year-over-year by 33.8 percent and increased month-over-month by 4.6 percent to 946,000, landing higher than the Street's consensus estimate of 925,000. Concurrently, housing starts climbed year-over-year by 27.7 percent and rose month-over-month by 0.8 percent to 917,000, coming above the Street's consensus estimate of 911,000. So the combination of strong building permit growth, which is a proxy for future construction, combined with better than expected single family starts, are clearly coming together to give investors more confidence that the housing sector is holding up well, and this year may contribute even more to gross domestic product growth than it did last year.
Despite the encouraging housing data, markets are down after there was word that Cypriot Finance Minister Michalis Sarris is about to be replaced upon his return from a current trip to Moscow, as it appears that he has not handled the crisis adequately. As it has been well published by now, Cyprus will receive a 10 billion Euro ($12.9 billion) bailout from the euro-zone with a levy on private bank deposits. The levy calls for a 6.75 percent tax on deposits up to 100,000 Euros and a tax of 9.90 percent on deposits above 100,000 Euros. Not surprisingly, depositors in Cyprus ran to take their cash out of banking institutions, but this was stopped by shutting down banks until Thursday. At the moment it is expected that this plan will be rejected by the leadership in Cyprus, but this means the nation will face default if no alternate plan is proposed, clearly a lose-lose situation for everyone.
In all, stocks are taking a hit for a third consecutive trading session, with the Dow sliding over 35 points into the red after being up over 60 points earlier today.
Housing Starts Resume Uptrend
By David Urani
February housing starts set the tone for the market this morning, registering an increase of approximately 1% month to month. That's not much of a gain but it does represent a reversal after declining in January and worrying investors. Looking forward, there was an even better upturn in permits, which bucked their own decline from January and also represented the highest level since June 2008.
And so, with the January numbers previously having put a touch of doubt in people's minds that the housing recovery may be stalling, this latest February reading has the market feeling good again. And the factor that continues to be the biggest reason to be bullish about home construction is in the supply numbers. Both new and existing home supplies (particularly existing, which is more than ten times the size of new) are right at their lowest levels to date, with existing having hit a new low in January.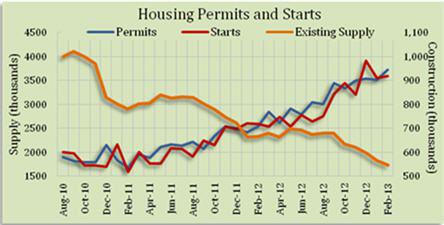 So, despite their being an increasing amount of new construction the supply of homes continues to dwindle as home purchases increase. Interestingly, yesterday's NAHB homebuilder confidence index (which surprisingly fell to 44 from 47) had cited an inability to secure lots, and credit to build with, as main factors for their reduced outlooks. Basically, the trend continues to be that builders are having a hard time just keeping up, and with supply continuing to head south the fundamentals remain bullish for construction.