By Carlos Guillen
Equity markets are trying to recuperate from taking a fairly sharp dip at the start of today's trading session. Clearly, it appears that investors are still concerned with the ramifications of a negative outcome in Cyprus; while the Cypriot economy is very small in comparison to the nations in the euro zone, the actions taken at this point of the game in Cyprus can set the stage for similar scenarios in larger euro zone members, and so far it is not looking good. On the brighter side of things, improving trends in jobless claims and in existing homes, and an uptick in factory activity have come together to serve as a lifting force on stocks so far into the first half of the trading session.
On the employment front, its slowly improving trend appears to remain intact and is signaling that employers are hiring more comfortably. According to the Department of Labor, initial claims during the week ended March 16 totaled 336,000, increasing a bit from the 334,000 revised figure reported for the prior week but landing below the Street's estimate of 345,000. The fact that the number continued below 350,000 is certainly encouraging; and this has now occurred for four consecutive weeks. The initial claims' four-week moving average was 339,750, decreasing from the prior week's average of 347,250 and representing the third tick below 350,000. So far it is looking as if the economy may be good enough to generate jobs and continue brining the unemployment rate slowly lower. Of course there are some headwinds developing, one being stronger efforts to reduce government spending and the other being the growing risk of a flare-up in Europe's debt crisis

Another bit of encouraging data today was that manufacturing in the Philadelphia region suddenly expanded this month. According to the Federal Reserve Bank of Philadelphia, its diffusion index of current activity March result landed at 2.0, higher than the Street's consensus estimate of 0.3, and increasing from the -12.5 reached in February. Given that a level above zero indicates an economic expansion, this represents the first period this year of growth in the region covering eastern Pennsylvania, southern New Jersey, and Delaware. Last week, manufacturing data from the New York region also showed expansion as the general business conditions index March result landed at 9.2, higher than the Street's consensus estimate of 6.5. The combination of these data points is indicating that there may be stronger than expected growth in the economy in the first quarter.

Despite the positive economic data points from here at home, the situation in Europe is serving to dampen the spirits of investors as a purchasing managers' index for Germany's manufacturing industry unexpectedly fell this month while a measure of euro zone services and manufacturing output contracted more than expected. In essence, European fears are making a comeback, and today it has sent the Dow Jones Industrial Average lower by over 70 points.
Home Sales Stroll, Supply Leaps
By David Urani
Existing home sales for February came in at a 4.98 million annual rate, which was slightly above the 4.94 million in January, and just below the 5.01 million consensus. Sales were down modestly in the Northeast and Midwest, and up modestly in the South and West.
It wasn't much of a change, nor was the Street really expecting one, but it does represent a new multi-year high. Sales did briefly go higher in 2009 during the government's homebuyer tax credit program, but excluding that sales are at the highest "natural" level since July 2007.
But for me, inventory has been just as big of a factor to the rebounding housing market as sales, in terms of prices and new construction. Inventory has been on a precipitous slide for the past couple of years, and in fact January's result was the lowest level to date, representing a scant 4.3 month supply. For February, inventory apparently jumped up by 9.6% and this may be the main reason homebuilding stocks are generally trading lower today.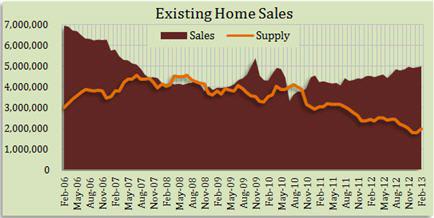 That being said, at the current level of 1.94 million homes (or 4.7 months), supply remains very low by historical standards. One month also does not make a trend, although if accurate this is a notable turnaround. Nevertheless, I wouldn't start being too worried until months' supply starts going above 6. Analysis over the past several years suggests that a 7-month supply acted as a rough inflection point for prices falling (supply went above 7 months in 2007 as prices started falling during housing bust) and prices going back up (supply fell back below 7 months in late 2011 as prices turned the corner. Note: this also happened briefly during the 2009/2010 tax credits).