By Carlos Guillen
Stocks got off to a great start at the beginning of today's trading session, fueled by very encouraging new orders, taking the Dow Jones Industrial Average above 14,500, which appears to be a new resistance level.
The main bit of economic data that was overall encouraging was durable goods orders. According to the U.S. Census Bureau, new orders for manufactured durable goods during February increased month-over-month by 5.7 percent to $232.1 billion, better than the Street's consensus estimate calling for a 3.8 percent month-over-month rise. However, the not so encouraging aspect of the data was that non-defense capital goods, excluding aircraft, declined by 2.7 percent after increasing by 6.7 percent in the prior month. These orders are considered a proxy for future business investment in items such as computers, engines and communications gear, so its recent decline does not bode well for overall economic growth in the short term. Despite this, it is apparent that the U.S. economy is still slowly improving as the overall trend in economic data is still signaling expansion, and with continuing low interest rates, the backdrop for growth is still favorable.

Clearly a negative today, but perhaps not enough to derail investors' enthusiasm was data from the Conference Board, as it showed that consumer confidence declined worse than expected. According to the Conference Board, its consumer confidence index declined to 59.7 in March from the 69.0 reached in the prior month, landing well above the Street's consensus estimate of 66.9. Similar to prior drops experienced in December and January, this drop in confidence was the result of our dysfunctional government. The recent sequester has created uncertainty regarding the economic outlook and as a result, consumers are less confident.
Even more discouraging was that consumers' short term outlook also dropped in March, taking the Expectations Index down to 60.9 from 72.4. The percentage of consumers expecting better business conditions during the next six months decreased to 14.4 percent from 18.0 percent; moreover, those anticipating business conditions will worsen increased to 18.3 percent from 16.6 percent. Consumers' outlook for the labor market declined as well, as those expecting more jobs in the months ahead decreased to 12.3 percent from 16.1 percent, while those anticipating fewer jobs climbed to 26.6 percent from 22.1 percent. Also discouraging was that the proportion of consumers expecting an increase in their incomes declined to 13.7 percent from 15.8 percent, although those expecting their incomes to decline fell to 18.0 percent from 19.3 percent.
In all, stocks are bouncing back from yesterday's selloff. Investors are weighing all the factors including the implications of the bailout for Cyprus and mixed readings on manufactured-goods, consumer sentiment, and housing demand. And the outcome is favorable, as reflected by the Dow gaining over 80 points so far into the trading session.
New Homes Data Waffles
By David Urani
February new home sales came in at an annual rate of 411k, below the 431k for January as well as the 425k consensus. One thing to note here is that the January reading had shown an unusually large 13% month to month surge that at the time we were a little skeptical of (the data can be volatile at times). As it turns out, January's reading probably was a little too good to be true and still we'd call the February reading a decent one given that we're still 8% above the December result. Another thing that may be at play here is the offbeat weather affecting seasonal adjustments.
In the meantime, supply of homes continued to inch along a very low level at 152k outstanding. Both median and average prices ticked higher as well, and although these particular readings on prices tend to jump around we do note that the average price was the highest since April 2008, at $313,700.
If the overall market weren't having such a good session housing stocks would probably be down modestly today, although as I said January was unusually strong, and consequentially this February reading doesn't necessarily worry me.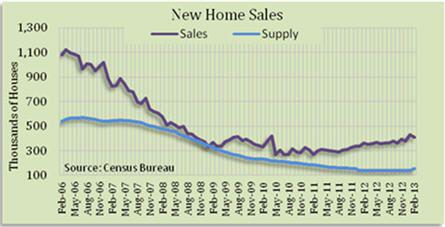 Speaking of prices, the Case Shiller index of existing home prices tends to be the most reliable, albeit backward-looking, view of home price trends. The January index came out this morning, showing a 1.0% increase month to month, taking it to an 8.1% increase year over year. This was the eighth monthly increase in a row. All 20 cities in the report increased month to month, and now with New York finally turning the corner all regions are up year over year as well.