By Carlos Guillen
Equity markets are attempting to climb after sharply posting losses at the start of today's trading session in which the Dow Jones Industrial Average lost over 100 points. It should be noted, however, that yesterday the Dow did reach a new record high closing level, so perhaps there was a bit of profit-taking at the opening bell.
Somewhat discouraging today was economic data that came from the housing front, as the index of pending home re-sales declined in February after jumping 4.5 percent in January. According to the National Association of Realtors (NAR), pending home sales during February contracted 0.4 percent, while economist estimates were mixed (we saw both slightly negative and positive expectations). Apparently, the limited supply of homes is to blame for the decline in contracts to purchase previously owned homes. It is important to note that pending home sales are considered a leading indicator because they serve to predict actual existing home sales, which are tabulated a month or two later. Existing home sales made up about 93 percent of the housing market last year and, according to the NAR, are expected to rise about 7 percent in 2013 to approximately 5 million sales, which are near the current level of activity, so increases should be modest from here to the end of the year.
Over in Europe, there is still concern about the direction the euro zone is taking with respect to handling bailouts. In Cyprus, the government is restricting money transfers as it readies for Thursday's planned reopening of its banks, which have been closed for nearly two weeks as the island nation struggled to reach a deal to avert a meltdown of its financial system.
In France, the euro zone's second biggest economy, gross domestic product contracted by 0.3 percent in the fourth quarter, and business activity was flat for all of 2012 as household purchasing power declined for the first time since 1984. The French economy is serving to underscore the situation in the euro zone, as its growth is forecasted to remain flat in this March quarter and to increase just 0.1 percent in the June quarter, in essence going nowhere.
In Italy, borrowing costs continued to climb as a lack of progress in forming a new government and worries about Cyprus' bailout increased the cost of debt. There are also rumors circulating that credit rating agency Moody's is about to downgrade Italy because of the political uncertainty and weak growth outlook. Moody's is watching Pier Luigi Bersani's attempts to form a government and its implications for Italy's rating. As it stands, Moody's rates Italy Baa2, two notches above "junk grade," with a negative outlook.
Despite the concerns coming out of Europe, including Cyprus, investors have not been spooked as one might have expected, and stocks are down but not that much. At the moment the Dow is down just over 40 points or 0.3 percent, but it is still slowly trending higher.
Pending Homes
By David Urani
Pending home sales for February showed a decline of 0.4% versus mixed/flat consensus estimates. All regions were flattish except for the Northeast which fell by 2.5%. Once again the story from the NAR (who, mind you, tends to be perma-bullish) is that lack of supply is holding back sales. They went as far as to say that new construction needs to rise by at least 50% from current levels.
We're not so sure about that but they do have a point on inventory, which has been dwindling despite increasing housing starts. For builders who aren't big public construction companies it can be tough to get the necessary credit. That also goes for consumers, who continue to see a relatively tight credit environment.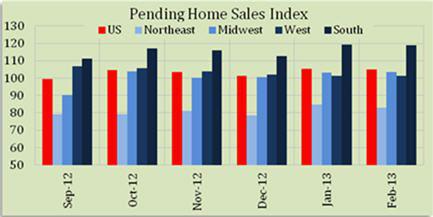 Blackstone Buddies up with Beazer
Speaking of lack of credit, take for instance the likes of Beazer (NYSE:BZH) who needs to invest capital in new inventory to keep up with the market leaders like D.R. Horton (NYSE:DHI), Lennar (NYSE:LEN) and Pulte (NYSE:PHM) but has been limited due to its ongoing losses and $1.5 billion debt load.
Luckily for Beazer, it looks like they'll get a little help from Blackstone Group (NYSE:BX), who happens to be the country's biggest real estate investor having already bought $3.5 billion worth of homes largely to rent out. They're opening up $150 million for Beazer to help them select land deals, while giving Beazer options to buy.
It's a relief for struggling Beazer (who is bucking a general down day in housing stocks on the pending homes report) and in the meantime it goes to show that even the biggest real estate investor, Blackstone, is still hungry for more.