By Carlos Guillen
After yesterday's rather sharp drop in equity markets, today is turning out to be a complete about-face as overall economic data points presented earlier in the session have helped to alleviate some of the fears investors had been feeling.
Certainly helping to bring investors bit of relief today was data that showed the number of people filing for unemployment benefits for the first time made a strong improvement, reaching the lowest level in over five years. According to the Department of Labor, initial claims during the week ended April 27 totaled 324,000, decreasing from the 342,000 revised figure reported for the prior week and landing below the Street's estimate of 346,000. The result continued below the 350,000 level which economists say is consistent with moderate labor market growth of about 150,000 net new jobs a month, so after rather discouraging employment data recently, at least the hope for an improving jobs market has not been shattered. The initial claims' four-week moving average was 342,250, decreasing from the prior week's average of 358,250, so it is becoming apparent that a down trend is developing. Although it is common that a decline in initial claims is usually followed by an increase in job gains, the most recent data from ADP private non-farm jobs this past Wednesday was disappointing. What may be happening is that although employers are no longer laying off workers, they may not be hiring either, but we will get a clearer picture of the employment backdrop tomorrow when the government employment data is released.

Perhaps somewhat mixed was that the U.S. trade deficit decreased below expectations in March, as exports decreased at a slower pace than imports. According to the U.S. Department of Commerce, the trade deficit during March totaled $38.8 billion, decreasing from the $43.6 billion reported for February and landing below the Street's consensus estimate of $43.0 billion. This improvement will certainly have a positive effect on gross domestic product for the first quarter when it gets revised latter this month; however, the fact that both imports and exports declined certainly does not paint a pretty picture for overall demand. In terms of the two main components, exports decreased 0.91 percent to $184.3 billion and Imports declined 2.83 percent to $223.1 billion. We should note that in February both imports and exports did increase.

In all, it is very encouraging to see this about face in trading activity, which appears to be indicating that investors are just waiting to jump into stocks at the sight of any bits of good economic evidence. This could be a double edged sword, however, and if tomorrows' jobs number fails to land better than expected, markets could turn significantly lower.
Bottom (Line)'s Up at Beam
By David Urani
BEAM stock was up after it beat by $0.10 on the bottom line, posting revenues +8% to $578 million versus the $566 million consensus. They say they delivered "above market growth in North America" which is a nice statement that implies market share increases. In fact, in 2012 Beam's sales grew at a rate of 6% which was double the pace of the overall 3% growth in the spirits market. It was the largest market share gainer in the industry in the US in both 2011 and 2012. Looking forward, management's own expectation is for the global spirits market to continue to grow at a rate of 3% this year, and for Beam to outperform it.
Much of their strategy has been based around creating and expanding brands. Of course, whiskey is the hottest segment of the spirits market right now and Beam is better positioned to benefit from that than anybody. Maker's Mark continues to be a juggernaut, and you may recall during 1Q there was a controversy when Beam announced they would dilute it to keep up with demand; they quickly retracted that statement. Nevertheless, we were somewhat afraid that would damage the brand but if anything people only rushed more quickly to buy it.
Aside from the whiskeys, Beam purchased Pinnacle, the #4 imported vodka in the US, last year and that may continue to be a decent growth driver as Beam leverages it through distribution and advertisement. Additionally one of the most promising brands for me is Skinnygirl (acquired in 2011), which aims to be a women's lifestyle brand that covers a variety of spirits. Initial performance of that brand has been great.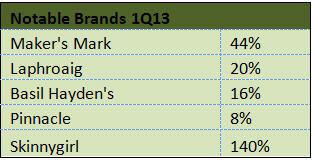 Even for established brands, Beam is offering refreshes and innovation. Notably Jim Beam, the company's biggest brand, has recently been overhauled with the addition of Red Stag and Devil's Cut varieties which helped to grow brand sales be 10% in 2012 (although it was down 2% in 1Q13).
Global expansion is another focus of Beam's management; whiskey in particular is not only a hot trend in America but emerging markets are also developing a taste for it. That being said, constant currency sales in the Europe/Middle East/Africa segment were up 1% while Asia Pacific/South America was down 7%. One factor affecting sales was a halting of operations in India for a few months amid internal investigations into trade practices; sales have since resumed there however. We would have liked to see more out of the international operations but do maintain some optimism; take for instance China where in 2012 new distribution lines boosted sales by more than 50%. The Asia segment in 1Q was also up against a strong comparison last year.
With respect to the strong bottom line result, they do say some of the bottom line strength was due to timing of certain costs which they expect to reverse including raw materials orders and advertising. They also saw better mix, particularly with Makers Mark. Looking forward a key point to watch will be how much of a reversal there will be on the favorable cost tailwinds it saw during the first quarter. Beam management is reaffirming their guidance for high-single digit EPS growth for 2013, indicating their expectation for those tailwinds to reverse.
Beam's 1Q was a continuation of strong sales growth along with consistent execution that has seen it beat the EPS consensus several quarters in a row. The company is nicely positioned in the highlight whiskey niche, and might even be innovating its own growing spirits trend with Skinnygirl. In the meantime, it has plenty of room to expand overseas and is raising brand awareness with a strong ad campaign.