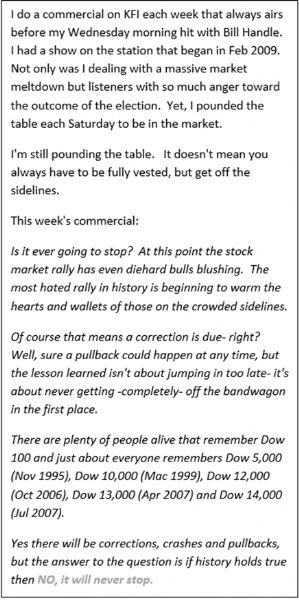 Yesterday, retailers looked great, which raises the question: why? Of course there are a lot of investors and "would-be" investors that are asking the same question about the market rally in general.
The thing is even though Americans are living in the moment and not seeing any reason to save money or invest in things like a home or retirement, they are creating a unique opportunity for retailers. With savings plunging this year, even slight increases in household debt leave enough cash to hit the mall and live for today.
This was the case in March as measured by the Federal Reserve's report on consumer credit. The $8.0 billion increase was the smallest increase in the past eight years and driven mostly by student loans. Those loans, along with auto loans, are being induced by the federal government.
Credit card debt actually decreased by $1.7 billion as debit card use continues to explode. Once again, people are simply living in the present and living within their means. Yes, the wounds of the Great Recession continue to reverberate, but it's mostly people afraid to take risks.
Living within your means is good, but Ben and the White House want you to splurge.
Other than Free Money & Subprime Loans...
American households saw their debt decrease by $1.3 trillion into the middle of last year and mostly move sideways with the exception of student loans and subprime auto loans. In both cases, these are high risk loans that are being given with government backing and blessing. As a result, consumer credit held by government has gone parabolic. This creates serious risk for taxpayers down the road, particularly $1.0 trillion in student loans, where promises of forgiveness have been implied to the degree it has to happen at some point.
It's the line in the sand that could impact young minds and votes.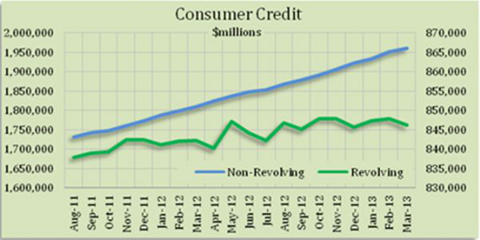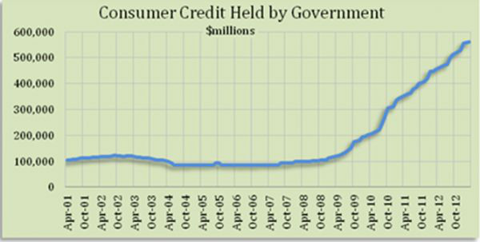 This brings me back to the question of retailers and the stock market. I say it boils down to jobs. At some point, job creation must happen significantly faster than population growth (last month population increased 210,000 versus 165,000 new jobs).
Jobless Recovery
In our universe of contradictions, it's easy to believe in things that don't make sense. One is the so-called jobless recovery. People mostly feel like if they have a job they will not lose it, and while they are making less, they have fewer bills than they did a few years ago (this is one of the biggest concerns of the Federal Reserve, lower incomes are integral to a deflationary sinkhole), and there is enough cash left to hit the mall every now and then. This has been good enough but doesn't speak to growth. This is the way so many companies posted less-than-expected top line numbers this earning season. This must change quickly.
In the meantime, the best way to play it has been on the bookends. Rich people are spending money, not as much as they would or could but still making lots of retailers, doormen and charities happy. Last night Whole Foods WFM posted strong earnings results and guidance that allayed fears about the economy and that assuaged concerns that comments from CEO John Mackey (compared Obamacare to fascism) that would derail sales. It didn't happen, the store is just too damn cool and if you can afford it, you must shop there.
I like to go and bring my own plastic bags to piss off the cashiers.
Those folks with declining incomes are setting their sights lower, hence, the rise of dollar stores.
Stock of the Day
Disney posted strong earnings results, but with shares already at a record high the stock is indicating a little lower. As a shareholder, I wouldn't fret (this stock is very close to making our Never Sell List). Yet, I think as a proxy there's a mixed message.
DIS

The parks segment enjoyed the strongest revenue change and largest percentage improvement in gross margin. There's no doubt a lot of that came from American visitors, but a large part of that story is the global economy and all the visitors it's creating for America. Last year President Obama signed an executive order to increase tourist visas and even that isn't enough to capture all the new demand, mostly from nations America used to send aid to.
I visited Yellowstone about four years ago and met a guide that spoke Mandarin, and for good reason, as it seemed as if half the park were visitors from China. This trend is only going to increase. It has positive implications for America (and negative too from the standpoint they're embracing what used to be our jet fuel), but mostly it speaks to the global economy that's largely dismissed or overlooked by the media.

Today's Session
The market is looking for a reason to take a break. Sure, the bias remains to the upside, but there seems to be desperation for something tangible to send stocks higher. I'm seeing a lot more downgrades than normal, and good earnings aren't helping SODA, DIS, and others. Truth be told, I was hoping for a pullback weeks ago, but we still increased our allocation to stocks. That's because you must ride these parabolic spikes. That said, we'll send alerts to take profits on a couple of ideas this morning and hold our powder for the first few hours of trading.