By Carlos Guillen
Equity markets are continuing their ascent, currently sending the Dow Jones Industrial Average to its second record intra-day high this week, putting the index on track for another record closing today. Clearly, investors continue to get more signals that the Fed will not slow down any efforts to provide liquidity into the economy, and today it appears that the decline in the Producers Price Index (PPI) was that signal.
According to the Department of Labor, the PPI in April decreased month-over-month by 0.7 percent; this compares with the Street's consensus estimate calling for a 0.5 percent decline. Excluding food and energy contributions to the price index, core PPI increased month-over-month by 0.1 percent, matching economists' average forecast. While a soft price environment is certainly not a good indicator of strong demand, investors are gaining more reassurance that the Fed will continue on its easy money trajectory.

Manufacturing in the New York region continued its downtrend and entered negative territory. According to the Federal Reserve Bank of New York, its general business conditions index May result landed at -1.4, lower than the Street's consensus estimate of 3.5, decreasing from the 3.1 reached in April. Given that readings greater than zero signal expansion, this month's result marks the first month of contraction after three months of expansion in the region that covers New York, northern New Jersey, and southern Connecticut. Ironically, this deterioration in manufacturing is also giving the Fed the green light it needs to continue pumping liquidity as planned.

On another bit of negative economic data today, the Fed delivered worse than expected industrial production and capacity utilization data. According to the U.S. Federal Reserve, industrial production during April decreased month-over-month by 0.5 percent, worse than the Street's consensus estimate calling for a 0.2 percent month-over-month decline. In the same time range, capacity utilization decreased from 78.3 percent to 77.8 percent, landing lower than the Street's consensus estimate of 78.3 percent. It now is starting to become evident that the slowing growth in China and the recession in Europe are having a negative effect here at home.

Like we have said, the combination of poor economic data presented today is giving the Fed policy makers the green light to maintain record monetary stimulus as they try to bolster the expansion, and this is serving to lift stocks even higher.
Homebuilder Confidence Back Up
By David Urani
The NAHB/Wells Fargo Housing Market Index showed a decent increase for May, to 44 from April's 41. This is a good sign following a decline in April which seemed to be driven largely by a difficulty in securing lots, finding labor, and also by higher costs. Those issues still remain in this market, and as a result inventory remains scarce. However, the higher index reading for this month indicates signs of homebuyers getting more urgent to find homes among the tightening supply. The sub-components for present conditions, expected sales in the next six months, and buyer traffic all increased.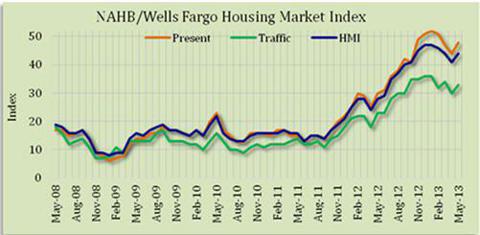 Timberrrrr
But going back to the issue of input costs, one intriguing trend has been a recent plunge in lumber prices. Since topping out in March around $400 (per 1,000 board feet), lumber futures have entered a steep slide, approximately 20% down to the current price of $322.30. Obviously if this is demand-driven it could foreshadow problems in the housing market, but there are enough other factors out there to suggest that is likely not the case.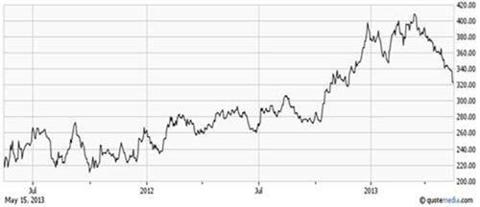 A recent survey of North American mills for last month suggests that lumber production hit its highest rate in six years in reaction to the increasing demand. That has been met with worries about Chinese imports potentially declining as that country seeks to tame its own housing bubble. Furthermore, relatively cold and damp weather this spring may be restricting homebuilding to an extent.
So in a way, rather than being an ominous sign for homebuilders it may instead just be a favorable turn of events for gross margins.