By Carlos Guillen
Quite remarkably U.S. stocks are trading flat after starting off the session considerably lower in reaction to economic data that illustrated a decline in consumption and no gains in income.
According to the Bureau of Economic Analysis, personal income during April remained unchanged month-over-month, worse than the Street's consensus estimate calling for a 0.1 percent month-over-month rise. Concurrently, personal consumption expenditures (PCE) decreased by 0.2 percent, while economists' average forecast called for a 0.1 percent rise. As a result of stagnant incomes and a slight reduction in consumer spending, the savings rate was able to hold fairly flat at 2.5 percent. The price index for PCE decreased 0.3 percent in April, a slightly sharper decline than the 0.1 percent drop in March. This is surely to give the Fed more reasons to maintain its quantitative easing policy right on track, for now at least.

Perhaps serving to lift the spirits of investors after rather uninspiring consumption results, data from ISM-Chicago showed that the region unexpectedly contracted. May Chicago PMI suddenly popped to 58.7 from the 49.0 level reached in the prior month, landing above the Street's consensus of 49.3. It should be noted that levels below 50 signify contraction, so the result means that the region's manufacturing industry is now back in growth mode after experiencing a glitch in April. So far, overall manufacturing data has been mixed, with Philadelphia and New York regions showing contractions in May; a broader economic measure of manufacturing comes out on Monday, and this should shed more light on direction the manufacturing industry is taking.
Quite encouraging today was that consumer sentiment not only landed higher than expected but also reversed its negative direction from last month. The University of Michigan's Consumer Sentiment May final result landed at 84.5, higher than the Street's expectation of 83.7, increasing from the 76.4 reached in April and reaching the highest level since July 2007 when it was 90.4. Given the close relation between consumer sentiment and consumer spending, this sudden jump in sentiment may revive hopes that consumption may grow at a faster rate this quarter. As it stands, according to the most recent government data, personal consumption expenditures increased quarter-over-quarter by 3.4 percent in the first quarter, the most since the fourth quarter of 2010 when it was 4.1 percent. The strong growth in consumption coincided with the strong ramp in sentiment during the first three months of this year, and the overall uptrend is still in motion. Also encouraging was that the index of expectations six-months from now, which more closely projects the direction of consumer spending, rose to 75.8 in May from 67.8 the month before.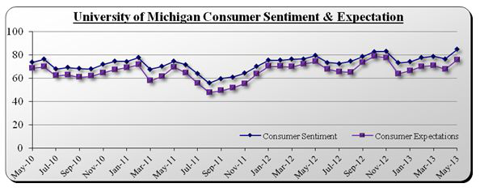 In all, today's trading session has been very volatile as the data presented had its pros and cons. At the moment the overall reactions can be said to be favorable, but only slightly.
Japan Central Banking Gone Wild
By David Urani
Turning an eye back over to Japan, the rollercoaster action in the Nikkei hasn't stopped. It all started with some haywire action in Japanese government bond yields last week which had traders sweating. Of course, the Nikkei has been fueled by an extremely brash program of quantitative easing by the Bank of Japan and it's all brought up a sense of uneasiness in the markets. While the Japanese central bank has certainly succeeded in cheapening the yen and boosting the stock market, there's a feeling that they've made the system unstable as the action in the equity and bond markets has been highly volatile.
The Nikkei ended the Japanese trading day modestly higher today, but in the afterhours futures are trending back down 1.4% from Thursday's levels. Ever since touching 16,000 last Wednesday, the Nikkei has made a massive plunge and with futures currently indicating at 13,635 that means the index is down 15% from the peak.
And so now all eyes will be on Bank of Japan Governor Kuroda, and whether he really has control over the monetary situation in Japan, or whether he just put the pedal to the metal to send it speeding out of control.