By Carlos Guillen
Stock benchmarks are making strong moves to the upside so far into today's trading session, as a pair of surprisingly strong economic readings helped bolster confidence ahead of an important Federal Reserve meeting tomorrow. Better-than-expected readings on manufacturing activity in the New York area and the U.S. housing market have equity markets making sharp gains, which are holding well.
For starters, manufacturing in the New York region made an encouraging reversal in June, making a move from contraction to expansion territory. According to the Federal Reserve Bank of New York, its general business conditions index June result landed at 7.8, higher than the Street's consensus estimate of 0.8, increasing from the -1.4 reached in May. Given that readings greater than zero signal expansion, this month's result indicated that the region covering New York, northern New Jersey, and southern Connecticut is back to growth mode. On a negative note, labor market conditions were weak with the index for the number of employees falling six points to zero, indicating that employment levels were flat, and the average workweek index declining ten points to -11.3, a sign that hours worked fell modestly. Despite the reversal in the index, manufacturing conditions are still relatively week, and this should not alter the Fed's course of actions, that is its bond buying program should remain intact.

The second bit of encouraging economic data came from the National Association of Home Builders, as its housing market index for June rose to 52, representing the biggest jump since 2002, while economists forecasted a rise to 45 (more on this below).
The positive reports have helped U.S. stocks make a nice recovery after falling sharply on Friday. In general, stocks have been experiencing significant volatility as there is increasing uncertainty about when the Fed will begin its tapering of bond purchases. Tomorrow's Fed meeting will be important in bringing some stability to equity markets if the Fed makes it clear that it will remain on course with its 85 billion a month bond purchases, but any signs of insecurity will put stocks deep in the red.
Homebuilder Confidence Contradicts Investor Sentiment
By David Urani
Over the past month investors have brought up some serious questions over the state of the housing market, and consequentially there's been a pullback in the sector. Chief among the concerns has been a slide in weekly mortgage applications as mortgage rates have lifted; we note that the decline in mortgage applications has been in refinances, however, rather than new purchases which relate to housing demand. In the meantime, the prospect of the Fed tapering off QE is bringing concern that mortgage rates have more upside.
Well, today brought a piece of data that has the Street reconsidering their bearish tone on the industry. The NAHB/Wells Fargo Housing Market Index, a measure of homebuilder confidence, surged to a reading of 52 for June from 44 in May (well above the 45 consensus). That puts the index at its highest level since March 2006. The components also impressed, with present conditions going from 48 to 56, expected sales in the next six months going from 52 to 61, and traffic of prospective buyers going from 33 to 40.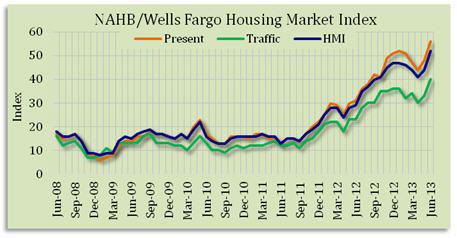 All in all it was a big surprise and it also gives a strong endorsement for how the spring selling season has fared. This index also has a good correlation with housing starts, meaning it's likely the homebuilders have been active of late keeping inventories up amid dwindling supply of new homes.
The Dow Jones US Home Construction index (a basket of homebuilding-related stocks) came off support around $460 last week, and is up a nice 2.5% today following the NAHB news. A month ago the index was trading at a high of $550, 10% above current levels.