With a slowing China, other emerging nations experiencing growing pangs, and the Fed looking to pull back there are some adjustments to investing.
Charles' Notes:
Don't overreact... the most important thing is to own companies based on solid fundamentals... that would mean weathering the storm and buying on weakness. My subscribers are in 25% cash at the moment largely because I recognize they're fearful and because I like to bank profits.
People should be balanced... I do portfolio reviews each day and the "loading up" factor is huge... they'll have too much gold or utilities, etc.
That said, you have to be honest about your holdings - no stock is ordained to rebound - cut loose losers based on companies losing market share, inconsistent execution, and industry-specific macro issues.
Be careful with companies with huge debt levels - servicing cost and refinancing costs will go higher.
Be careful with bond substitutes like utilities and MLPs.
Look for companies growing in the United States - for the past four years global growth has been at the center of my investment thesis and while I still love American companies with giant global tentacles, if the US economy is improving companies with market share gains and pricing power are worth watching.
Then there are sectors hit on knee-jerk reactions like homebuilders. Mortgages may become more expensive but cheap mortgages weren't bringing in Main Street anyway. If wages edge up and there's greater confidence in the economy people will look to own homes which is much cheaper than renting in almost every corner of the country.
Remember pullbacks are part of investing and this market is long overdue. It would be an amazing mistake to panic. The last three years saw swoons triggered in the spring of 9% to 16%, only to rebound and rally into the New Year.
I'm excited about great stocks going on sale... not sure where exactly to pull the trigger because of emotions of investors, which means selling begets selling. But we have a large cash position and are ready to pounce.
Markets Take a Hit around the World
By Carlos Guillen
Equity markets are continuing to decline as selective comments from the Fed continue to reverberate in the minds of investors who simply wanted to hear that tapering would not occur any time soon. Of course, Ben Bernanke did make it clear that any tapering would depend on future data, but that was totally ignored, and the focus was on Ben saying that it may be appropriate to moderate the pace of asset purchases later this year and that is was possible that the bond-buying program could end mid- next year.
Clearly disappointing today was data that showed the number of people filing for unemployment benefits for the first time suddenly jumped, putting an end to the rather encouraging trend we witnessed in the prior couple of weeks. According to the Department of Labor, initial claims during the week ended June 15 totaled 354,000, increasing from the 336,000 revised figure reported for the prior week and landing above the Street's estimate of 340,000. The result suddenly broke above the 350,000 level, which economists say is consistent with moderate labor market growth of about 150,000 net new jobs a month. The initial claims' four-week moving average was 348,250, increasing from the prior week's average of 345,750. This unexpected reversal in the data is certainly not giving investors confidence that the economy and labor markets have diminishing downside risk, as was implied yesterday by the FOMC's directive.

Perhaps encouraging but certainly not enough to mitigate stocks' downfall today was that manufacturing in the Philadelphia region expanded this month. According to the Federal Reserve Bank of Philadelphia, its diffusion index of current activity June result landed at 12.5, higher than the Street's consensus estimate of -0.2, increasing from the -5.2 reached in May. Given that a level above zero indicates an economic expansion, this represents the largest expansion since April 2011 in the region covering eastern Pennsylvania, southern New Jersey, and Delaware. On Monday, manufacturing data from the New York region also showed expansion as the general business conditions index June result landed at 7.8, higher than the Street's consensus estimate of 0.8. Ironically, this improvement in manufacturing may also mean that tapering may come sooner rather than later as the Fed hinted yesterday.

Another encouraging bit of economic data was that the index of leading indicators improved and still appears to be maintaining a favorable short-term uptrend, signaling that overall stronger housing and jobs markets are helping the U.S. economy make more progress in the first half of 2013. According to the Conference Board, its Leading Economic Index (LEI) during May increased month-over-month by 0.8 percent to 95.2, better than the Street's consensus estimate calling for a 0.3 percent month-over-month rise. Overall, the trend in the index is still pretty much solid to the upside and still looks to have more upside potential with housing and consumer spending still gaining traction.

In all, stocks are down sharply but appear to be reaching a bottom for the Day. As it stands, the Dow is down over 1.5 percent, which is not as bad as Asian and European markets, which experienced sharper loses with the German DAX falling 3.28 percent and the Chinese Hang Seng dropping 2.88 percent.
Rate Anxiety Brushing Aside Strong Home Sales
By David Urani
Existing home sales for May were up 4.2% from April to an annual rate of 5.18 million, and that was also above the 4.97 million consensus. Gains were seen in all regions. This was a solid result, and aside from one month in November 2009 which was artificially lifted by Federal tax credits, this was the highest "natural" rate of existing home sales since May 2007. Over on the supply side, inventories were up for a fourth month in a row, but at a 5.1 month supply this is still quite low in the grand scheme. In the meantime, median and average prices also rose during the month, hitting their highest levels since mid-2008.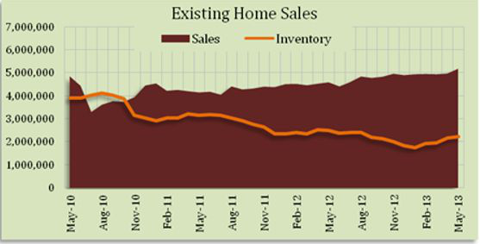 Overall the home sales report was quite good all around, and on a usual day this would surely have housing stocks going higher. However, today is not a usual day in the wake of Fed-withdrawal panic. In fact, homebuilders are taking quite a beating with the Dow Jones US Home Construction Index (a basket of homebuilding-related stocks) down a whole 7%. This decline started well before the home sales report, and in a way it's a surprise that the sales data did nothing to stem the slide.
As has been somewhat of a trend in the past month, interest rates are at the top of traders' minds. With increasing fear of Fed "tapering" has come a rise in interest rates off the lows and of course there's some speculation that higher rates will decrease demand (we actually heard the opposite from Toll Brothers TOL CEO Yearley, who notes rising rates are increasing homebuyers' urgency to go purchase a home while rates are still low). Along with that, I also get a sense that the housing sector has been somewhat of a figurehead of the market's rally over the past six months.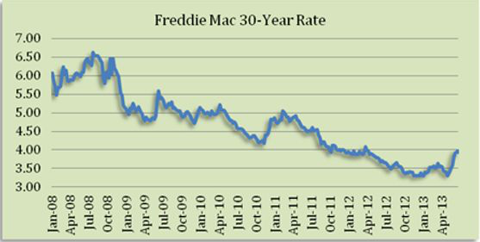 Indeed, rates have gone up from a low of 3.31% late last year to 3.93% for the Freddie Mac 30-year. For a $200,000 loan, that increases the monthly payment from approximately $1,130 to $1,200. But keep in mind that home prices themselves are also on the rise simply from supply and demand. In fact, there continue to be shortages of homes in many areas and buyers have been willing to pay up.
At some point mortgage rates surely become a headwind for demand but at just under 4.0% this is still historically quite a cheap rate to get for a homebuyer. In the meantime, the fundamentals of housing have continued to stay strong and as we saw with today's existing home sales report buyers are still pouring in while prices remain firm. This means more rising sales and margins for homebuilders.