By Carlos Guillen
After two days of sharp declines in the major indexes, today was looking to be a more promising day in stock trading as futures indicated a modestly higher open in pre-market activity. Well ... equity markets in fact did start today's trading session higher, with the Dow Jones Industrial Average gaining as much as 100 points during the first four minutes of trading, but since then the index has made a number of head fakes, losing as much as 70 points, and now we are back in gaining territory. It is apparent that investors are looking for any bit of good news to assuage their fears of Fed tapering and China's slowing growth, but they are not quite finding that good news as there is no economic data being released today and as Greece is once again in the spotlight.
European markets had another day of losses fueled by news from Greece that their Democratic Left party reportedly pulled out of the coalition government, which stemmed from a disagreement with Prime Minister Antonis Samaras who decided to close the state broadcaster, ERT, a week ago. This action now leaves the Greek Government at the brink of collapse as it leaves the majority party with just three seats above the minimum requirement to remain majority. Adding to the Greek malaise was the International Monetary Fund (NYSE:IMF) threatening to suspend aid payments to the struggling country, unless euro-zone leaders move to fill a gap of 3 billion to 4 billion euros ($4 billion to $5.3 billion) in the country's rescue program, a gap that resulted from central banks refusing to roll over Greek bonds. At the moment the IMF is still in discussions of the matter, but the tensions are building, and this had the German DAX falling 1.76 percent, the French CAC 40 dropping 1.11 percent, and the Greek Athex Composite losing 6.1 percent.
It is clear that investors are still shaken up by the Fed's comments this week and by China's worse than expected PMI data yesterday. Now with Greece in the mix, we can expect to see increasing volatility in trading activity as investors' fears ram higher.
Sweating the 10-Year
By David Urani
And so now with the market officially terrified of Fed tightening we're getting a volatile reaction, with traders adjusting their positions accordingly. Of course, one of the main symptoms of Fed tightening is fewer Treasury bond sales and consequentially investors are liquidating en masse. That's caused a relatively sharp move up in rates.
The 10-year treasury yield, in fact, has risen 20 basis points in just the last two sessions to above 2.5%. And of course, given all of the extreme QE over the last few years yields have hit very low levels; that means there's anxiety that rates have a lot of increasing yet to go.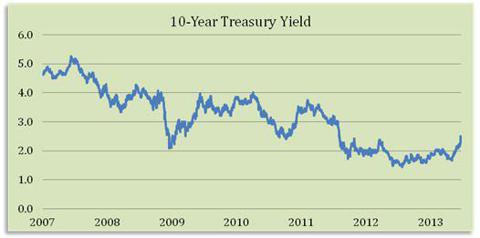 I really doubt that 10-year rates are about to spike back up to 5% anytime soon as they were before the recession, the Fed has merely just hinted that it could begin to tighten. That means that even if they do find that the coast is clear to begin to take their foot off the gas before the end of the year, only some of the QE will be taken away at first, meaning that objectively they will in fact still be fiercely printing money.
Nevertheless, in the past couple of days the treasury unwinding has happened relatively quickly and of course the threat of quickly rising treasury yields means people are afraid interest rates for all kinds of loans could be going up.