By David Urani
So far today, the market hasn't chosen a direction to go and has looked flat since the premarket. Maybe that's a bit remarkable given that the ultimate pot-stirrer Ben Bernanke is out speaking on Capitol Hill. That being said, the Fed's policy and strategy are somewhat known at this point. It's not as though a couple more economic data points are going to change how Ben & Company look at things; they will do what they feel they need to do when their targets are met.
The Street more or less knows what to expect at this point, and perhaps more importantly, feels comfortable with it. That's not to say sentiment can't shift on a dime in this market though, and we wouldn't necessarily rule out the market making a move one way or the other before the session ends.
With that said, technically, the market is at a psychological level right at the all-time high and the nice round number of 15,500 for the Dow where perhaps traders have put a line in the sand. Subsequently, perhaps if Bernanke does create the slightest breeze in either direction it could push the market off the fence and cause a snowball heading into the close.
1-year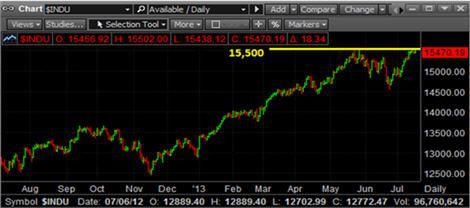 Intraday, the market tried to open right at the 15,500 mark, and made a clear bounce off of it just after 10:30: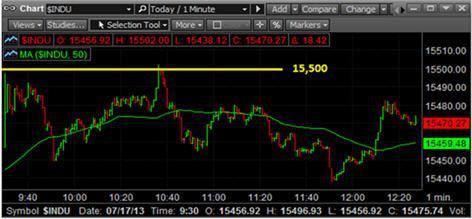 Housing Starts
June housing starts came in at an 836k annual rate, which was down 9.9% month to month and well below the 951k consensus as well, but don't be too quick to be spooked because a dig into the report shows somewhat of a different story. What happened this month is multifamily units (apartments and condos) were extremely volatile, as tends to happen from time to time with this data. More importantly, single-family home construction activity was not nearly so bad. In fact, permits for new single-family units hit another high for the current cycle, at 624k for the month from 620k. Single-family starts did decline, but by just 0.8%. For single-family starts, all regions actually showed increases except for a 3.9% decrease in the South.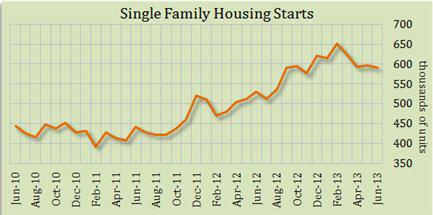 Nevertheless, we do acknowledge that the inventory of existing homes has gone back into an uptrend since bottoming out in January so some measure of slowdown is not necessarily a bad idea for builders who have been trying to go pedal to the metal to keep up with demand. The good news is that even the latest reports on home sales have suggested that there are still shortages of supply, and at an overall level of 5.1 months worth of supply, existing inventory still remains quite low from a historical standpoint.