By David Urani
The market is feeling optimistic right now, with arguably the two biggest events of the week still to come; the Fed's statements and the employment report. With respect to employment, ADP's own monthly estimate of private payrolls was an optimistic one, with a 200k gain in July. That was above the 179k consensus. Likewise, the consensus for Friday's official report is for 175k. The ADP isn't always right on point (or at least, the same as the government's estimates) but the Street is getting a bit of a fuzzy feeling going into Friday.
Looking further into the details, once again it's the service sector outpacing goods-producing. Services posted a 177k increase while goods-producing showed a 22k increase. Likewise, it's small businesses carrying the employment gains as opposed to the larger businesses: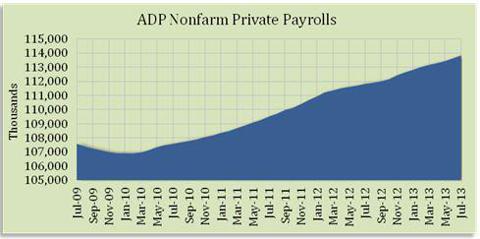 Interestingly, the 2Q GDP report had a little bit of a different narrative. The headline figure for GDP in 2Q (the first of three estimates) is a gain of 1.7%, above the 1.1% expectation. That said, the government revised the history of the series, which included taking the 1Q figure down from 1.8% to 1.1%. As we noted about the ADP, services well outpaced goods, but in the GDP report it was goods consumption that was up 3.4% for the quarter while services were up just 09%.
Total personal consumption looked pretty good, up 1.8% and contributing 1.2% of the 1.7% total GDP growth. In addition, there was a nice boost from private investment, which contributed 1.3% of the total 1.7%. However, there was a 1.5% drag from imports which pulled down the headline reading. Government spending also continues to be a drag, but much less so as it had a near negligible negative impact versus -0.8% in Q1.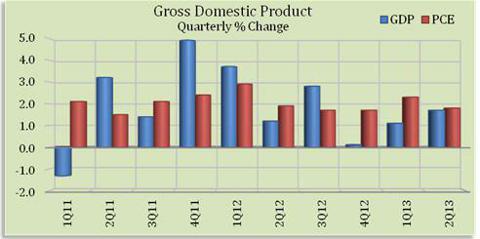 So overall the economic data was palatable and has the market in a good mood. But of course, if there's one thing that can stir the moods of Wall Street, it's Ben Bernanke & Pals at the Federal Reserve, who can be like a giant electric mixer to market morale. Their statements come out at 2:00 so we'll be braced. That being said, although the market was obviously terrified thinking about life without QE a couple of months ago it almost seems like the Street has come to grips with the fact that it has to happen sometime. Perhaps the myriad of 2Q corporate earnings, many of which are showing record results, can pacify all the crybabies. So far it has worked; the Dow is back in record territory with Bernanke warming up in the bullpen.