BASES LOADED, BERNANKE IN THE BULLPEN - By WSS Research Desk
Please Note: Blog posts are not selected, edited or screened by Seeking Alpha editors.
Long/Short Equity, Portfolio Strategy
Seeking Alpha Analyst Since 2008
Wall Street Strategies has been providing independent stock market research since 1991 to individual, retail and institutional clients through a balanced approach to investing and trading. Charles Payne, our founder and chief analyst, is routinely sought after for his stock market, political, and general opinions by several prestigious news organizations. Currently, Mr. Payne is a contributor to the Fox News Network and Fox Business Network. He also hosts his own radio show on KFIAM 640 every Saturday from 2-4pm PST. Mr. Payne recently released his first book entitled Be Smart Act Fast Get Rich. Our all-star analytical team is called first when the media needs to know. We are regularly featured on several well respected finance-oriented radio and television programs such as Fox, CNBC, BNN, WSJ to name a few and widely recognized in the media as a leaders in the analyst community. In addition, Wall Street Strategies is part of Factset, Jaywalk, and Thomson-Reuters Consensus Estimates. Meet our analysts: Brian Sozzi is an equity research analyst specializing in the softline/hardline goods sectors of the retail industry for Wall Street Strategies Inc. Mr. Sozzi graduated Summa Cum Laude from Dowling College, receiving his Bachelors of Business Administration with a concentration in Finance and Accounting. Routinely sought after as a trusted point of reference for opinions and insight on the global economy and retail sector stock evaluation, Mr. Sozzi is a frequent on air contributor to CNBC, Fox Business Network, and Bloomberg, and is cited regularly by online/print publications that include Forbes, Bloomberg, The Wall Street Journal, Thestreet.com, CBS Marketwatch, Reuters, Seekingalpha, Associated Press, Crain's NY Business, Fortune, Barron's, AOL Finance, and the Financial Times. In 2009, Mr. Sozzi became recognized by Starmine as a top-ranked equity research analyst for stocks under coverage in such categories as EPS Estimate Accuracy and Industry Excess Return. David Silver is a Research Analyst for Wall Street Strategies. He is a graduate of Tulane University's A.B. Freeman School of Business where he received his Bachelor of Science in Management with a dual degree in Finance and Accounting. David actively covers companies in the Transports, Autos, and Beverage sectors. He is routinely invited to appear on business oriented television and radio shows including CNBC, Fox News, Fox Business News, the Business News Network of Canada, WCBS Radio, and the Wall Street Journal Radio. In addition, David has been quoted in major business publications such as the Wall Street Journal, Forbes, Marketwatch, CNN Money, and Autoweek. David Urani is a research analyst with concentrations on the homebuilding, staffing, medical devices, and logistical services industries. Along with providing institutional clients with up-to-date reports of individual stocks within his industry coverage, David assists the rest of the Wall Street Strategies research desk with timely analysis of vital economic data. A graduate of the A.B. Freeman School of Business at Tulane University, David earned a Bachelor of Science in Management while majoring in finance. With prior training experience running small businesses, he has an eye for key fundamentals that keep Companies running efficiently. David's insight has been featured in several outside sources, including the Fox Business Network, MarketWatch, and SeekingAlpha. Carlos Guillen is an Equity Research Analyst providing coverage of the technology sector for Wall Street Strategies, Inc. Mr. Guillen has had experience working in both the sell side and the buy side. Prior to working as an analyst, he was a Design Engineer for Lambda Electronics. Mr. Guillen holds an M.B.A. from NYU's Stern School of Business, and he has a B.S. in Electrical Engineering from Manhattan College. Conley Tuner is a Research Analyst with Wall Street Strategies Inc. He is a frequent contributor to a number of media outlets including MarketWatch, Bloomberg, BBC news and Xinhua news. Conley holds a Masters in Business Administration and a Masters in International Affairs from the George Washington University. Jennifer N. Coombs is an Equity Research Analyst at Wall Street Strategies. She previously worked on the buy side as an Associate Equity Research Analyst covering the transportation subsector of the industrials sector at AIG SunAmerica Asset Management Corporation. Jennifer also covered Real Estate Investment Trusts (REITs) and has done broader research for the industrials, financials and consumer sectors. Prior to joining their research department, Jennifer worked as a Trading Assistant for SunAmerica's index funds. She also worked briefly in the client portfolio management department at Dwight Asset Management Company – a fixed income subsidiary of Goldman Sachs. Jennifer graduated with distinction from Clarkson University where she earned a B.S. in Financial Information Analysis and Political Science, with minors in Economics and Law. Jennifer specialized in international markets, and briefly studied East Asian Economics at Sungkyunkwan University in Seoul, South Korea. Jennifer is currently a member of the New York Society of Security Analysts (NYSSA).
By David Urani
The market is feeling optimistic right now, with arguably the two biggest events of the week still to come; the Fed's statements and the employment report. With respect to employment, ADP's own monthly estimate of private payrolls was an optimistic one, with a 200k gain in July. That was above the 179k consensus. Likewise, the consensus for Friday's official report is for 175k. The ADP isn't always right on point (or at least, the same as the government's estimates) but the Street is getting a bit of a fuzzy feeling going into Friday.
Looking further into the details, once again it's the service sector outpacing goods-producing. Services posted a 177k increase while goods-producing showed a 22k increase. Likewise, it's small businesses carrying the employment gains as opposed to the larger businesses: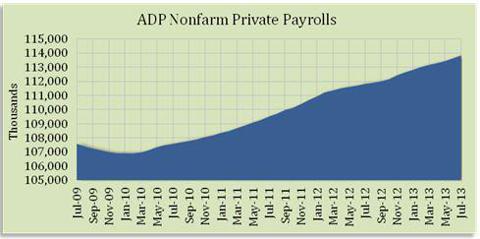 Interestingly, the 2Q GDP report had a little bit of a different narrative. The headline figure for GDP in 2Q (the first of three estimates) is a gain of 1.7%, above the 1.1% expectation. That said, the government revised the history of the series, which included taking the 1Q figure down from 1.8% to 1.1%. As we noted about the ADP, services well outpaced goods, but in the GDP report it was goods consumption that was up 3.4% for the quarter while services were up just 09%.
Total personal consumption looked pretty good, up 1.8% and contributing 1.2% of the 1.7% total GDP growth. In addition, there was a nice boost from private investment, which contributed 1.3% of the total 1.7%. However, there was a 1.5% drag from imports which pulled down the headline reading. Government spending also continues to be a drag, but much less so as it had a near negligible negative impact versus -0.8% in Q1.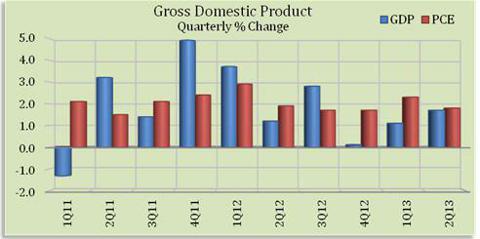 So overall the economic data was palatable and has the market in a good mood. But of course, if there's one thing that can stir the moods of Wall Street, it's Ben Bernanke & Pals at the Federal Reserve, who can be like a giant electric mixer to market morale. Their statements come out at 2:00 so we'll be braced. That being said, although the market was obviously terrified thinking about life without QE a couple of months ago it almost seems like the Street has come to grips with the fact that it has to happen sometime. Perhaps the myriad of 2Q corporate earnings, many of which are showing record results, can pacify all the crybabies. So far it has worked; the Dow is back in record territory with Bernanke warming up in the bullpen.
Seeking Alpha's Disclosure: Past performance is no guarantee of future results. No recommendation or advice is being given as to whether any investment is suitable for a particular investor. Any views or opinions expressed above may not reflect those of Seeking Alpha as a whole. Seeking Alpha is not a licensed securities dealer, broker or US investment adviser or investment bank. Our analysts are third party authors that include both professional investors and individual investors who may not be licensed or certified by any institute or regulatory body.