By Carlos Guillen

After making a slight move to the downside yesterday, equity markets have accelerated their declines as investors are continuing to look for any bits of clues as to whether the Federal Reserve will begin trimming its monthly bond purchases. And today comments from Federal Reserve Bank of Atlanta President Dennis Lockhart did not go all that well. On the brighter side of things, trade data from here at home has helped ease nervous investors.

For starters, yesterday Dallas Fed President Richard Fisher, one of the most vocal critics of quantitative easing, said the central bank is closer to slowing its $85 billion per month bond buying program and warned investors not to rely on that stimulus. According to Fisher, financial markets may have become too accustomed to the idea that the central bank will loosen credit after markets decline. He also helped to proliferate the notion that a decision to slow purchases is "closer to execution mode" with the unemployment rate having fallen last month to 7.4 percent. Today comments from Federal Reserve Bank of Atlanta President Dennis Lockhart exacerbated Fed tapering talk as he told Market News International that the Fed could start curtailing its bond-buying program at any of the three remaining Federal Open Market Committee meetings this year. And now investors are also awaiting remarks from Chicago Fed President Charles Evans at 1 p.m.

Quite encouraging today was data that showed the U.S. trade deficit shrank in June to the lowest difference in close to four years, as American exports rose to an all-time high while imports dropped, clearly not the scenario that we have become accustomed to. According to the U.S. Department of Commerce, the trade deficit during June totaled $34.2 billion, decreasing from the $44.1 billion reported for May and landing below the Street's consensus estimate of $43.4 billion. As it stands, the trade deficit is at its lowest level since October 2009 when it stood at $33.95 billion. In terms of the two main components, exports increased 2.2 percent to a record $191.2 billion, as demand for industrial supplies and materials, capital goods, and consumer goods all ramped higher outside the U.S. Imports dropped 2.5 percent to $225.4 billion, as American's demand for industrial supplies and materials and capital goods declined. Given that net-exports play a direct effect on gross domestic product (NYSEMKT:GDP), a narrower deficit could lead economists to revise their growth estimates higher for the second quarter of this year. In fact, Goldman Sachs has already raised its GDP forecast to 2.2 percent from 1.7 percent, and Barclays' revision was even more drastic, increasing 0.7 percentage points to 2.5 percent.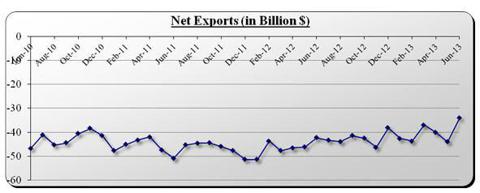 At the moment, equity markets are trading well into losing territory, with the Dow Jones Industrial Average down over eighty points. While the trade data was a positive, it was not enough to bring markets into winning territory as tapering fears continue. We expect to see continuing volatility as investors will be listening to Chicago Fed President Charles Evans' words on the topic.
https://www.wstreet.com/user/register.asp?source=3
---