Question of the Day
Retailers are voicing real concern about consumers all of a sudden not spending. What happened?
A. Consumers have run out of money
B. Consumers don't have faith
C. Consumers have everything they need already
D. Consumers have learned (the hard way) to live within their means.
I'll Be Hosting Varney & Co on Fox Business at 9:20 a.m.
It was the worst week for the market this year after the first down week in more than a month, which makes this week critical as a gauge of investor sentiment. That sentiment is driven by a combination of current news and conventional wisdom about the future.
Current news is actually a combination of past news with occasional up to date alerts that shake up recent trends. Last week it was pretty clear that current news is that the economy is in more trouble than many thought and yet the media pushed a different narrative.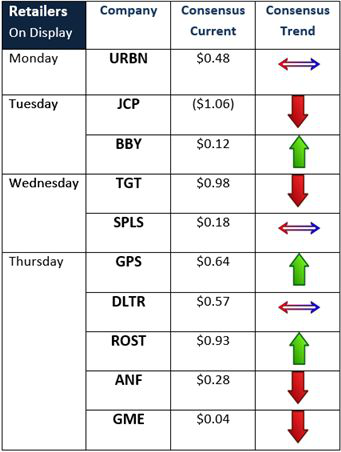 The notion stocks were down on Fed tapering is silly unless you think the Fed is tapering as a sign of surrender. Otherwise, current news doesn't portent to an economy ready to zoom without training wheels. News from retailers was most alarming.
In the absence of big time economic data, this week looks to retail earnings and guidance to set the pace and sway conventional wisdom. I think there could be lots of disappointment, in part because the Street is dragging its feet adjusting estimates (see table).

Americans have run out of money!
There are a number of messages from soft retail numbers. Management of these businesses pointed to the economy, the middle class tax hike, and uncertainty among consumers. For consumers I think they've simply run out of money. They've dipped into savings to appease some pent-up demand but refuse to dive back into the deep end of the credit pool. The way America's economy has evolved, it's critical consumers actually consume. That said, the difference, where we get extraordinary growth, is when businesses are investing (instead of buying back stock and paying hefty dividends) and consumers are so confident they're using as much credit as possible.
We are nowhere in being even near reality at the moment. Some purists like it that way as they consider such moves dangerously unstoppable once there's a full head of steam. While I'm inclined to agree with respect to individual consumers, I'm not sure businesses will ever become so rambunctious as to bite off more than they can chew (Case in point, I was told over the weekend by someone on the ground in Benton Colorado that Wal-Mart just halted construction on a mega warehouse facility on 40 acres that once boasted trucks would be entering or leaving every 10 seconds).
Thus far Americans have only taken the credit bait to purchase new automobiles. In the second quarter auto loan originations increased $92.0 billion, climbing to the highest level since the third quarter of 2007. Let's face it, stars have finally aligned perfectly for the auto industry with the average ride clocking in at almost 13 years old and rates on loans as low as they've ever been for most buyers (see table below).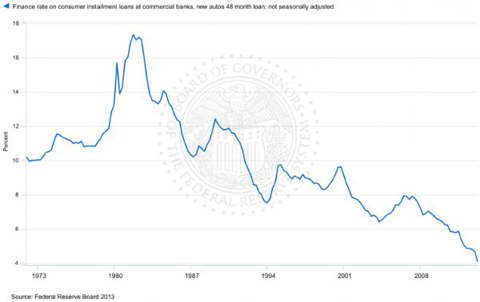 The only other form of credit getting any action are student loans, which have taken off like a rocket over the past five years, enabling the runaway cost of higher education to outpace inflation by several hundred percent.
Outstanding student loans have surpassed credit cards as the number one type of debt after mortgages. In the second quarter they climbed $8,0 billion to $994.0 billion with a bit of good news that 90 day + delinquencies edged lower to 10.9% from 11.2% in the prior quarter. Right now the federal government is making a mint on student loans, which netted more than $50.0 billion for the Treasury in the past fiscal year and should aid the Obama administration with well over $100.0 billion more dollars during the rest of the term.
At some point it could be a huge disaster for taxpayers who would be on the hook for any rescue or meltdown but seem to be shutout from current benefits, which actually help the children of non-payers of federal income taxes.
Revolving
Will it go round in circles
Will it fly high like a bird up in the sky
Will it go round in circles
Will it fly high like a bird up in the sky
I've got a story, ain't got no moral
Billy Preston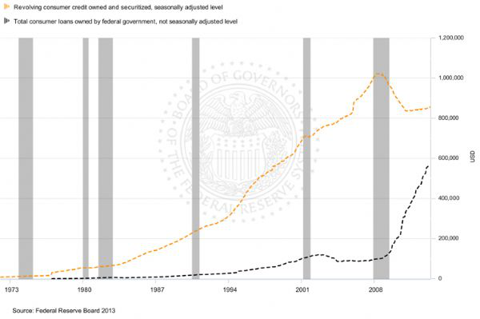 While the federal government has fueled an amazing spike in student loans, credit card loans have been stagnant for years (see chart above). Main Street is simply not ready to use credit cards the way they once did. It's a reflection of real wages decreasing, lack of confidence in the future, and lessons learned during the Great Recession. Low lending rates haven't been enough of an off-set to seduce people to charge it ... in fact, for many it's become a morality issue (it certainly would be easier for the government to stop its whining over slight decreases in the rate of spending if the rest of the country was spending beyond its means).
There is pent-up demand for stuff, but it's unlikely anything else we'd spend money on is as old or broken down as a 13 year old vehicle. But we don't save money (see table below), and we aren't making money, as a consequence Americans have run out of money! For the retail sector to improve, wages will have to increase, confidence will have to bloom, and shoppers will have to say "credit" rather than "debit" or "cash."
In the meantime, it's going round in circles when we all want retail to fly high like a bird up in the sky- for the right reasons.

Today's Session
We aren't forcing the issue this morning, but this is an important week. In addition to retailer data, we'll get the Fed minutes on Wednesday and initial jobless claims, which loom larger since that odd result and, I think, overreaction last week. Then, there's housing data at the end of the week.
Key technical support points failed last week as bias is firmly to the downside. Let's watch the open from the sidelines and remember #DONTPANIC.