By Carlos Guillen
Investors appear to be trying to find direction during today's trading session as there is little in term of significant economic data to convince them to get into equities.
Stocks as reflected by the Dow Jones Industrial Average made a rather sharp drop right after the opening bell today, and trading looked dismal for the first five minutes of the session, but then the Dow recovered its losses, which was difficult to explain, only to sink a bit lower later in the session. As it stands, last week, the Dow industrials dropped 2.2 percent, representing its sharpest single-week decline since 2012. Those losses came as a result of Treasury yields jumping to 2.827 percent from 2.580 percent last week, representing the biggest weekly gain since June, as upbeat labor-market data sparked speculation that the Federal Reserve will begin trimming its monthly bond purchases as early as September.
While the beginning of this week will be light in terms of market drivers, Starting Wednesday things will get more interesting as Housing data will be on display, and the numbers will paint a better picture on how demand and pricing are holding up now that mortgage rates have been on the rise. Other items on which investors will be focused will be the release of the minutes from the last FOMC meeting on Wednesday and the Kansas City Fed's Jackson Hole Symposium on Thursday, all of which can strongly shake markets if investors interpret signs of Fed tapering sooner rather than later.
At the moment volumes still remain light with no hard data to move investors in either direction, and the Dow is trading a bit lower, down just over ten points. Clearly, investors have been keeping a close eye on communications from the Fed, as they try to discern when the central bank will start to pare back on its aggressive easy-money policies, and this week this focus will continue.
S&P Stuck on the 50-Day
By David Urani
On Friday we pointed out that for the chart-reader types the S&P 500 has been coming up against a big test of its 50-day moving average which is at 1,657. As we noted in the afternoon update that day, the market made a clear bounce off of that level right after Friday's open (pictured below). Well, it was a valiant effort and even going into the close it looked as if the bulls were going to hold, but interestingly the S&P slipped back below 1,657 on the very last tick of the session at the closing bell. That last-minute purge seemed to carry into today with the markets gapping lower at the open.
After making one more push higher this morning the bulls just can't seem to make the moves stick. And so we are drifting lower into the afternoon. However, that 50-day may continue to be a technical battleground until we get some news to push it over the fence, either way.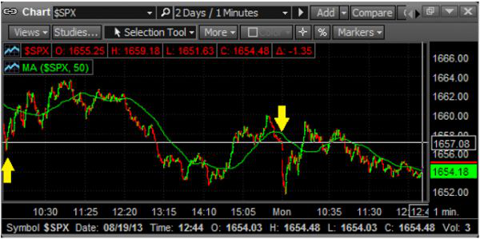 <