By Carlos Guillen
The Dow Jones Industrial Average is continuing on its sixth day of declines as the Street continues to focus on any bits of hints coming from Fed officials in reference to scaling back on Fed asset purchases. Shortly at 2 p.m. we will get FOMC minutes, which have the capability of shaking markets if investors interpret Fed tapering sooner rather than later.
As it stands, most on the Street still expect reductions in quantitative easing to occur toward the end of the year. Back in June, Fed Chairman Ben Bernanke conveyed that the central bank would curb its $85 billion in monthly bond purchases by year-end. So this is what the Street has already priced into equity markets, and any signs of anything occurring earlier can sink markets abruptly.
Rather encouraging today was data from the housing sector, which showed that sales of previously owned homes rose to their highest level in close to four years, possibly reflecting a spike in activity as buyers look to close deals before mortgage rates rise further. According to the National Association of Realtors, Existing-home sales rose 6.5 percent in July from the prior level a month earlier to an annual rate of 5.39 million, landing above economists' forecast of 5.15 million and representing the best month of sales since November 2009, when the home buyer tax credit spurred activity; more on this below.
While the housing data should have lifted markets, rather disappointing earnings results from retailers such as Target Corp. (NYSE:TGT), American Eagle Outfitters (NYSE:AEO), and Staples Inc. (NASDAQ:SPLS) appear to have spooked investors as it is becoming apparent that the consumer may slow making purchases in the second half of year. As it stands, Staples Inc. is restricted and down more than 14 percent after the office-supply retailer reported disappointing results and trimmed its 2013 earnings and revenue forecasts. American Eagle Outfitters Inc. is also restricted and down over 10 percent after the company reported sharply lower revenue and gross profit margin for the last quarter after having to mark down prices, and the teen clothing chain said the promotional environment and drop in store visits have continued into this quarter. Shares of Target Corp. are down about 3 percent after the discount retailer reported a drop in second-quarter profit. In General it is just a bad day for retailers.
At the moment the Dow is down close fifty points, not a lot in the grand scheme of things but certainly not encouraging considering six days of consistent losses, and with Fed minutes about to be on display, the trading environment may get rough. Let's wait and see.
Existing Homes Still Healthy
By David Urani
The housing market has been at somewhat of a crossroads over the past couple of months, as sales and price performance by all accounts continue to show quite healthy growth but the market will give it no mercy as it turned homebuilder stocks into a downtrend as 30-year mortgage rates rose from below 3.5% in May to just below 4.5% currently.
That brings us to today's existing home sales report for July from the National Association of Realtors, which showed sales up 6.5% month to month (annual rate) to 5.39 million. This is the highest rate of sales since March 2007 (If you exclude one month in November 2009 during Federal tax credits), and above the consensus calling for 5.15 million; in the meantime sales are up 17.2% year over year. Sales were up broadly across all major regions. Inventory also continues to rise, but is not outpacing sales as months' supply remained flat at 5.1. The total supply grew 5.6% month to month to 2.28 million.
So it was another good piece of housing news that shows continued recovery in the housing market, contrary with how the Street seems to see it. That said, the bear case isn't necessarily dead here, as this existing home sales report does have a lag effect, with the better part of these sales likely being agreed upon in June, to be closed in July. Nevertheless, we find it unlikely mortgage rates will have totally derailed home sales, and rates had indeed risen past 4% by the end of June, and as high as 4.5% in July.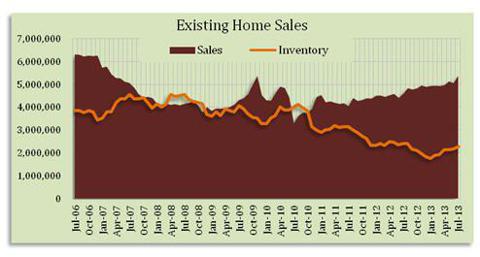 Toll Brothers Reports
We also got earnings results from luxury homebuilder Toll Brothers (NYSE:TOL). Toll beat by $0.01 on the bottom line for its fiscal Q3 with earnings of $0.26 per share, and revenues were up 24% year over year to $689 million which was just shy of the $694 million consensus. The average price per home sold was up to $651k from $577k.
The company also reported new orders up 47% in dollars and up 26% in units, while backlog was up 75% in dollars and 56% in units. In the meantime, management also updated its guidance to call for FY13 revenues to be $2.46-2.62 billion which is in line with the current consensus. So the remainder of the year between backlog and guidance also looks good, and shows no sign yet of slowdown from mortgage rates (note: the consensus in the last three months for FY13 has only risen, to $0.81 from $0.79).
CEO Doug Yearly says "We believe the recovery is real and we are in the early stages of the rebound."