By Carlos Guillen
After six days of declines in the Dow Jones Industrial Average, today's trading session is turning out to be quite encouraging as positive PMI data from China coupled with better than expected economic results here at home have come together to break the slowly sinking trend on the index.
Manufacturing data from HSBC Holdings Plc and Markit Economics have managed to bring some enthusiasm to investors as the result showed that China is back in growth mode this month after shrinking the most in almost a year during July. As it stands, the preliminary purchasing managers' index for China came in at 50.1, landing above economists' forecasts of 49.9 and increasing from the 47.7 posted for July. Given that a reading above 50 indicates expansion, China's manufacturing now appears to be back in growth mode. Manufacturing and services in the euro area also grew more than economists' forecast in August, led by Germany.
Perhaps a bit encouraging today was that data showed the number of people filing for unemployment benefits ticked higher but still remained near five-year low levels. According to the Department of Labor, initial claims during the week ended August 17 totaled 336,000, increasing from the 323,000 revised figure reported for the prior week and landing below the Street's estimate of 337,000. The result still remained below the 350,000 level, which economists say is consistent with moderate labor market growth of about 150,000 net new jobs a month. The initial claims' four-week moving average was 330,500, decreasing from the prior week's average of 332,750. It is becoming apparent that companies are running so lean that they can't afford to shed more workers without hurting profits, which may be a precursor to bigger gains in payrolls once the effects of federal budget cuts and higher payroll taxes fade in the second half of 2013. Growth in employment, together with rising incomes, will help buoy consumer confidence and spending, which accounts for about 70 percent of the economy; however, this may not be all that good for stocks as it may be indicative that the Fed may indeed start tapering sooner rather than later.

Another report showed that the index of leading indicators continued to improve for the fourth consecutive month and remains in an uptrend. According to the Conference Board, its Leading Economic Index (LEI) during July increased month-over-month by 0.6 percent to 96.0, better than the Street's consensus estimate calling for a 0.5 percent month-over-month rise. Of the ten components that make up the leading indicator, 8 were positive in July. In essence, the data is still signaling that the economy will likely continue to expand through this year, but still at a slower than normal rate.

In other company specific items, Abercrombie & Fitch is down over 18 percent after the teen-apparel retailer reported fiscal second quarter earnings and revenue well below expectations, citing weakness in its female business and slow customer traffic. Also Hewlett-Packard Co. shares have tumbled over 11 percent, the worse fall in two years after a disappointing earnings report that highlighted doubts about Chief Executive Meg Whitman's turnaround strategy. While the HP's financial results were mostly in-line for the third fiscal quarter, Whitman stunned Wall Street when she said total company year-over-year revenue growth in the next fiscal year is unlikely.
At the moment the Dow is up over fifty points and holding steady, while trading at the NASDAQ has been halted as a result of some technical issues and no humans at the steering wheel.
China Production Positive for Dry Bulk
By David Urani
So today we got HSBC's flash PMI reading of manufacturing activity in China. That result came in at 50.1 for August, which is quite a relief, rising from a weak reading of 47.7 in July. Note that readings below 50 indicate contraction, and according to HSBC, China's production activity had been negative for three months in a row prior to this.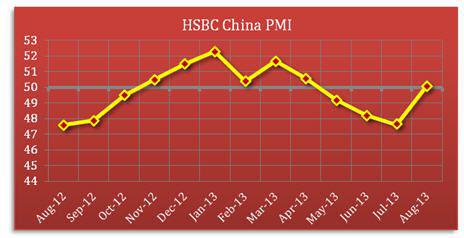 And a similar outlook has been developing in the metals market in China, where previously diminished stocks have reportedly been building back up. That's led to a significant boost to iron ore prices over the past couple of months, to a five month high. Some of that may be stemming from the Chinese government's desire to boost infrastructure investments as a way to make sure they hit their 7.5% GDP target this year.
That increase in iron ore demand from China has been a nice boost to the dry bulk shippers (iron ore is the second most shipped commodity after oil), and has prominently been reflected in dry bulk shipping rates which have started a nice run this month. The Baltic Dry Index of shipping prices is up 8% so far this month, and in particular Capesize rates are up 17%.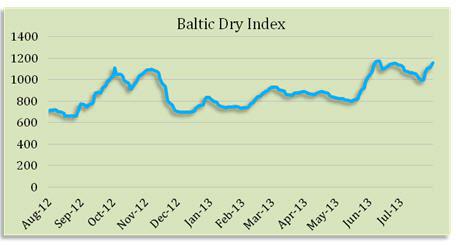 Analysts are starting to take note as well, as this week has seen an upgrade to Diana Shipping (NYSE:DSX) by Credit Suisse, and a new outperform rating for Dry Ships (NASDAQ:DRYS) by Imperial Capital.
This is a highly beat down industry that was booming just before the 2008 financial crisis. Given the high activity five years ago many new ships were ordered, only to see global recession render them useless. And since these ships take a long time to build there has continued to be an influx of unneeded new capacity flooding the market for years. Subsequently, shipping rates took a nosedive and shippers have been running at steep losses. For comparison, whereas the Baltic Dry Index is currently at 1,158, it was higher than 10,800 in mid-2008.
But now prices are beginning to show some signs of life and there is even evidence that new orders for ships are finally bottoming out, indicating some light at the end of the tunnel after a multi-year downtrend.
This month both Diana Shipping and Dry Ships' shares are up 13%,
Global Warming to Improve Shipping?
Here's a semi-related story that's just beginning, and could be representative of the future of the shipping industry although it's too early to base any investments off of. Two weeks ago on August 8, a vessel named the Yong Sheng set off from China toward Europe. This journey is different though because instead of taking the usual route South around India and through the Suez Canal, this ship will travel North above Russia through the Arctic, the first containership to do so.
You see, rising global temperatures have melted enough ice that there's now a pathway when it previously wasn't feasible. The ship is scheduled to land in the Netherlands on September 11. If sustainable, this could cut two weeks off the average shipment from China to Europe!