Please Watch Tonight "Making Your Market" Fox Business 6 p.m.
By Carlos Guillen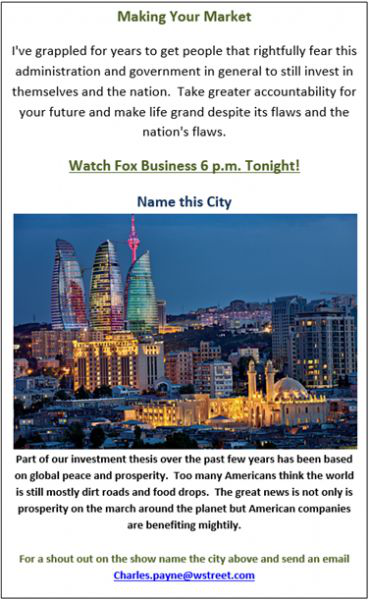 Equity markets began today's trading session on a strong down trend, but that lasted for just five minutes. It seems that investors reacted to the much worse than expected durable goods orders posted earlier, only to realize later that this may mean tapering later rather than sooner.
The main bit of economic data out today was durable goods orders, and the result was surprising and somewhat discouraging. According to the U.S. Census Bureau, new orders for manufactured durable goods during July decreased month-over-month by 7.3 percent to $226.6 billion, worse than the Street's consensus estimate calling for a 5.0 percent month-over-month decline and representing a very sharp reversal after three months of back to back gains. Concurrently, non-defense capital goods, excluding aircraft, declined by 3.3 percent after increasing by 1.3 percent in the prior month. These capital goods orders are considered a proxy for future business investment in items such as computers, engines and communications gear, so this rather steep decline is not only surprising but also indicative of slowing growth in the near term.
It is apparent that concerns over the Fed tapering sooner rather than later, which means higher borrowing costs for capital spending, is causing companies to slow on growth investments. Ironically, if weak economic growth persists, the Fed will have more impetus to keep interests rates at near zero levels and continue with its easy monetary policy, which is great for stock markets.
Less significant but also worth mentioning was that manufacturing activity in the Texas region continued to expand at a modest pace this month but the workweek dropped rather precipitously. According the Federal Reserve Bank of Dallas, its general business activity index increased to 5.0 in August from 4.4 in July. Texas produces more than 9 percent of all U.S. made goods, ranking second after California, and given that a reading above 0 indicates expansion, the result is a positive for overall national growth. On a negative note, labor market indicators reflected an increase in hiring but sharply reduced workweeks. The employment index rose to its highest reading in a year at 11.2 from 9.3 in July and just 0.2 in June. But the hours worked index plunged to -9.9 from 1.3, the lowest in nearly four years.

In all, despite the negative durable goods data, stocks are trading in the green and holding rather steadily so far into the trading session. The rest of the week promises to be much more eventful with consumer confidence out tomorrow, pending homes figures out Wednesday, GDP out on Thursday, and Michigan Sentiment out on Friday to mention a few.
Foul Play in Potash?
By David Urani
Last Month, as you may know, Russian potash company Uralkali stunned the industry when it exited its joint venture (some would say cartel) called the Belarusian Potash Company. That group controlled over 40% of the potash export market and had a major influence on prices. Subsequently, potash stocks plunged as the CEO himself surmised prices could fall as much as 20% as a result.
Well, Uralkali CEO Vladislav Baumgertner has now been arrested and charged with abusing his power, potentially having a personal benefit to gain by causing the potash market disruption. He could be looking at 10 years in jail if convicted, and Belarus is calling for the arrest of four more Uralkali execs as well. Authorities suggest this was a well thought-out scheme that would take years to develop.
Last week the CEO of Potash Corp. of Saskatchewan POT had noted he expected Uralkali's exit from the Belarusian Potash Company to be short-lived simply because it wasn't in the best interest of the company (Uralkali's shares dropped 18% in Russian trading).
Potash names like Potash Corp., Mosaic MOS, and Intrepid IPI are seeing some relief as it's been looking like this whole situation is far from over. In the meantime this is an industry that's looking quite oversold and which, having suffered an immediate price disruption, still maintains a compelling outlook now that share prices have already more than adjusted.