By Carlos Guillen
Equity markets are trading rather flat today in what could have been an up day on good economic data, but President Barack Obama's call for congressional action on Syria is serving to put pressure on stock prices.
One important fundamental bit of economic data out today was the Institute for Supply Management (ISM) Purchasing Managers' index (PMI), considered by many to be a very important health indicator of the manufacturing industry here at home. PMI in August clocked in at 55.7 percent, increasing from the 55.4 percent reported for July and landing above the 53.6 percent consensus estimate; the result represented the third consecutive month of rather sharp increases. It is apparent that the main drivers of the higher than expected result came from a recovering U.S. housing market and continuing strength in auto sales. Of the 18 manufacturing industries, 15 reported growth in August. Given that a reading below 50 percent indicates the manufacturing economy is generally contracting, this PMI result puts the U.S. manufacturing sector into its third month of expansion. Also encouraging was that, given that a PMI over 42.2 percent, over a period of time, generally indicates overall economic expansion, the result also indicates the 51st consecutive month of overall economy growth.
It should also be noted that new orders in the ISM report, considered to be an important leading indicator, showed an increase but not as sharp as that of PMI. In fact, new Orders increased to 62.3 percent in August, up from the 58.3 posted for the prior month. So while the U.S. is still in slow economic expansion, the third month increase in new orders may be indicative of an upcoming acceleration in economic expansion in the short term.

Also encouraging was that spending on new home construction rose to its highest level in nearly five years in July. According to the Commerce Department, private residential construction spending increased 0.6 percent, above the Street's consensus calling for a 0.5 percent rise. This better than expected increase is serving to take away some of the belief that increasing interest rates is having an adverse effect on the housing recovery. As it stands construction spending is sitting at the highest level since June 2009.
Despite the better than expected PMI and construction spending data, investors are still worried about the situation in Syria. While economic data in China and in Europe over the extended weekend was also encouraging, the focus is once again in Syria. As the public and government officials get more details of the number of people killed and the atrocity of the wounds it would not be surprising to see an increasing inclination toward some form of military intervention.
Syria Update
By David Urani
Heading into today the Street, and the world I suppose, were feeling better about the Syria situation with Obama having deferred on a decision last week and with still no action over the weekend pending congressional approval. The market lost a big portion of its earlier gains on comments from Speaker Boehner just after 11:15am and the S&P is now just modestly positive and the Dow slightly negative. The Speaker, who almost seems to disagree with the President at times just for the sake of disagreement, is indeed on Obama's side for action against Syria.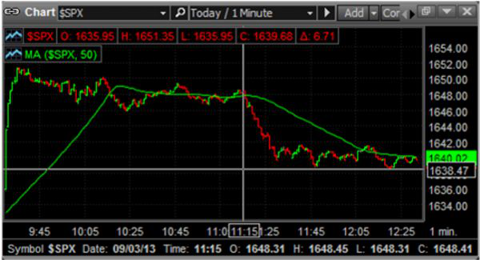 That opinion has been echoed by Pelosi and House Majority leader Cantor. Senator Levin also notes that he expects more solid support for Obama after recent discussions. Now there are suggestions a Syria resolution could be given today, according to Senator Corker.