By Carlos Guillen
Equity markets are attempting to make a third consecutive day of gains as reflected by the Dow Jones Industrial Average, which is up just 15 points so far into today's trading session. While news from Syria is still the center of attention, investors today took a look at a number of economic data points, which were overall mixed, although we should note that the ADP nonfarm jobs number was a strong disappointment, given that tomorrow everyone will be focused on the official government jobs data.
For starters, it was encouraging to see data that showed the number of people filing for unemployment benefits ticked lower, giving some hope that the unemployment rate may improve when it is released tomorrow. The result was better than expected, and it is on the verge of reaching the lowest level seen since January 2008. The initial claims' four-week moving average was 328,500, decreasing from the prior week's average of 331,500.
On the other hand ADP nonfarm jobs was worse than expected, not by much, but still a disappointment given that most consumer confidence reports have been very positive about the jobs backdrop. Tomorrow government jobs data will be the center of attention for all investors as they seek to predict when the Fed will commence its tapering procedure. Ironically if the jobs backdrop shows signs of improving momentum it will certainly give the Fed the green light it needs to reduce its asset purchases sooner rather than later, and this could sink markets.
Also keeping investors on edge today is discussions currently going on at the G-20 summit, with President Barack Obama in St. Petersburg for the gathering of global leaders. Prior to the gathering, China and Russia cautioned that reduced stimulus by the U.S. central bank could hinder the global economy. Of course, the most important topic will be Syria, as Barack is facing growing pressure by world leaders not to launch a military strike against Syria. However, it is becoming increasingly apparent that the U.S. will take action as the President's argument is that the use of chemical arms in Syria was not only a tragedy but also a violation of international law that must be addressed.
Positive Employment Readings Stack up Ahead of the BLS
By David Urani
Heading into tomorrow's big jobs report we're getting some good signs from other data. To begin with, the ADP gave out its own report on private payrolls this morning and it was decent with a 176k increase for August. Likewise, the consensus for the BLS result tomorrow calls for 175k. It's not particularly great, but it'll do for now and supports an improving job market, albeit somewhat slowly but at least steadily.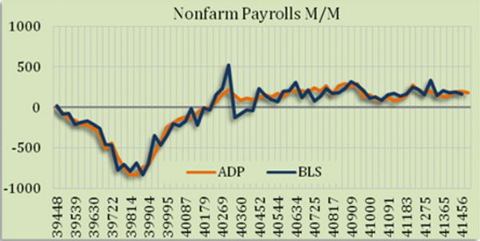 But even more positive than that has been the weekly initial jobless claims data. This morning's result showed 323k, down from 332k in the previous week. That led to a 4-week average of 329k, which is the lowest since October 2007. Given that claims tend to have a good correlation with the unemployment rate, we're looking to be in good shape here.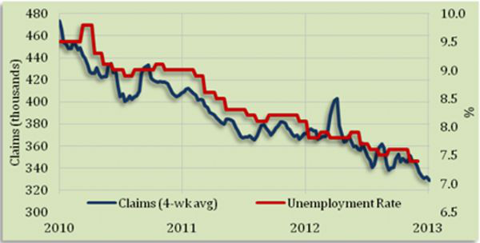 One other item this morning was the ISM services index which not only was the highest since 2005 but the employment component was a highlight, rising from a reading of 53.2 in July to 57.0 in August. That being said, the manufacturing ISM report from earlier this week had shown a slight decline in employment, from 54.4 to 53.3.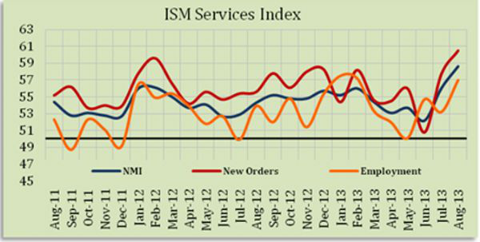 And along those lines, the Challenger, Gray & Christmas job cuts report also showed some softness for the industrial sector. Their report showed 50,562 layoff announcements in August, all the way up from 37,701 in July and the highest since February. That being said, they steer away from calling it industrial sector weakness, and blame it largely on mining equipment.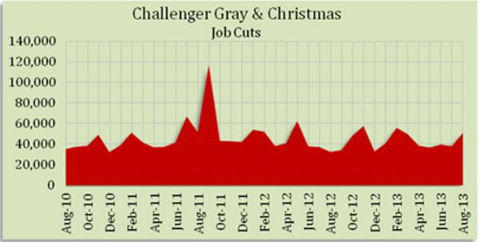 ---
Delivery, and or timely delivery of Internet mail is not guaranteed. Wall Street Strategies therefore