In Remembrance of 9-11 Never Forget
By Carlos Guillen
Equity markets are continuing to make very encouraging moves to the upside with the Dow Jones Industrial Average up over 90 points, up every single day this week, after tensions over the situation in Syria simmer down.
Last night, President Barack Obama delayed a call for military action against Syria, putting off a request that Congress authorize U.S. strikes targeting the Syrian regime after a deadly chemical-weapons attack last month, and this has ensured a short term sigh of relief for markets. However, things can change soon if Russia and Syria decide to do a 180 on their proposals. Nonetheless, it is very encouraging to see markets reacting positively even as risks still remain.
Among the risks is next week's Fed policy-setting meeting, as we have seen markets shake in recent months over discussions of rolling back Federal Reserve stimulus efforts. The Federal Open Market Committee's (OTCPK:FOMC) meeting will be take place Tuesday and Wednesday of next week, and as it stands, the Street is under the belief that the FOMC will scale back their quantitative easing program in spite of last Friday's disappointing nonfarm payrolls report. The consensus view is that the Fed will scale back their quantitative easing program from purchasing a total of $85 billion of Treasuries and mortgage-backed securities every month by $10 billion to $75 billion per month.
On a couple of note worthy items, Apple is down over 5 percent so far into the session, a day after it unveiled two new iPhone offerings. This comes after the stock had rallied 11 percent in the month leading up to the announcement. Analysts have criticized the cost of Apple's lower-priced iPhone, saying it would prove too pricey to succeed in emerging markets. Given its massive weight on the NASDAQ, it has this index lower while the Dow is up strong. Also MasterCard said today that card purchases and other transactions accelerated in July and August, a positive sign for consumer spending. And lastly, the Mortgage Bankers Association revealed that the number of mortgage applications filed in the latest week fell 14 percent from the previous week (but it could be skewed by the Labor Day week), amid rising mortgage rates. Wholesale inventories for July rose 0.1 percent on the month, below expectations for a 0.3 percent increase.
In all, the Dow is holding up well and even showing sign of continuing momentum, which we believe may continue for the rest of the week, but next week is a different story.
Market on Sale
By David Urani
So in August we got that much-heralded selloff but now the market has reassessed and the S&P 500 is back up 3.4% from the late August low. But, you might ask, what about all those negative things that are supposed to happen in September? True, the Fed still hasn't tapered, Congress still has yet to take on the debt ceiling debate, and we've even got this Syria issue still weighing on us. But as we've been saying all along if you're looking to invest it's all about corporate profits and arguably those aforementioned events aren't things that directly affect companies' bottom lines.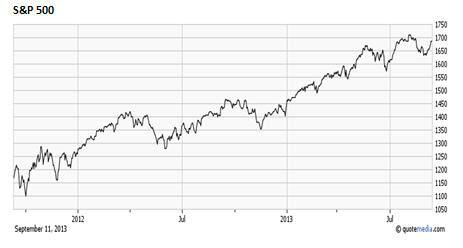 What happened all last month is that stocks went down but their respective earnings estimates still held up. So by Wall Street's calculations corporate profits for the rest of this year and next continue to trend higher but the price for buying those companies got cut. In effect, stocks went on sale.
In a nutshell, that effect is illustrated below. The so-called 'value' of the stock market in terms of price-to-earnings has become discounted. In other words, the growth premium on stocks is lower. The S&P 500 is currently trading at just over 14 times its expected earnings a year from now. As you can see below, that's quite low by historical standards.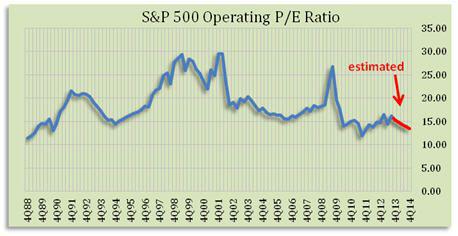 This is a similar market valuation to that of mid-2010 but of course back then there were still a lot of glaring reasons for one to be cautious on stocks. However, right now U.S. and global growth look to be on track and simply put, stocks look undervalued here. Stocks appear to be making a run back to those all-time highs and deservedly so.