By Carlos Guillen
Equity markets are making a rather soft move to the upside as consumer prices that fell below expectation may be indicating that the Fed will continue on it easy money trajectory for the short run.
Perhaps a bit surprising today was that the price of goods, from a consumers' perspective, climbed at a less than expected pace. According to the Department of Labor, the Consumer Price Index (CPI-U) in August increased month-over-month by 0.1 percent; this compares with the Street's consensus estimate calling for a 0.2 percent rise. While the most recent Producer Price Index (PPI), which gives a feel for the price changes of goods from a producers' perspective, was giving signs of increasing prices for consumers, these increases apparently have not yet been passed on to the consumer to the degree expected, as price increases have been slowing. Excluding food and energy contributions to the price index, core CPI increased month-over-month by 0.1 percent, while economists' average forecast called for a 0.2 percent rise. These slowing increases in prices are likely to begin raising some concerns at the Fed, as it may mean that more time may be needed to remain "accommodative" as Ben Bernanke would say. Tomorrow we will see what actions the Federal Open Market Committee (FOMC) will make in reference to slowing its asset purchases, but from the looks of this they may hold back from tapering a bit longer.

In other consumer related news, an early forecast predicts the holiday-shopping season will be the worst since 2009, reflecting already existing concerns of some retailers who have already begun cutting prices to get a jump start for what they fear will be a rough Holiday shopping season. ShopperTrak, which measures store traffic in 60,000 locations world-wide and crunches other data to come up with its forecast, expects retail sales in November and December to rise by 2.4 percent from a year earlier, less than the 3 percent increase in 2012 and below the gains of around 4 percent in 2011 and 2010.
At the moment, the market is resting on the belief that no tapering will occur, so let's hang tight to see what the FOMC says tomorrow.
Builders Brush off Mortgage Fears
By David Urani
There have been some real mixed messages in housing of late, and in particular the builders are still highly confident despite some flagging sales activity on rising mortgage rates. The NAHB/Wells Fargo Housing Market Index hit a 58 preliminary reading for September, flat with last month, which remains the highest level in almost eight years. There has been a noted pause in momentum as the market adjusts to mortgage rates that are still quite low by historical standards but have bounced up from the record cheap levels. Nevertheless, traffic of prospective buyers hit a new high, up one point to 47.
Certainly homebuilder confidence has flown somewhat in the face of new home sales results, which as of the latest reading fell 13% month to month in July on an annually adjusted basis. We do note that readings can be volatile at times, but between that and other indicators such as mortgage applications it seems clear that housing demand has at least taken a breather lately.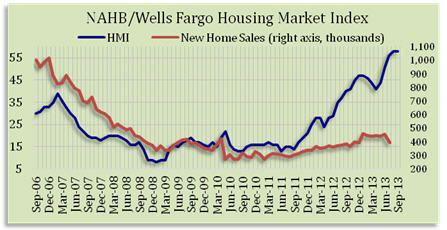 Perhaps the homebuilders are looking at this whole thing from a more historical, long term perspective. Certainly mortgage rates have risen, to more than 4.5% for a 30-year loan from less than 3.5% late last year and that makes homes less affordable. However, any volatility in mortgage rates is more near-term turbulence within a long term growth story. Supply and demand are still the reigning factors for the long term and in that respect new home sales are up significantly from a year ago while still being less than a third that of peak levels (we acknowledge the peak was a bubble but it goes to show the capacity for sales to continue to rise from the lows). Meanwhile supply remains relatively scant at just over 5 months' worth, and I think that's what the homebuilders are probably looking at.