By Carlos Guillen
After posting its fifth consecutive day of loses, the Dow Jones Industrial Average is showing signs of ending this losing streak as Dow futures are up in the green. While initial claims data was much better than expected, GDP growth for the second quarter was a bit shy of forecasts, serving to dampen further upside on the Dow.
Clearly encouraging this morning, was that data showed the number of people filing for unemployment benefits ticked lower, landing below expectations and it still remaining near six-year low levels. According to the Department of Labor, initial claims during the week ended September 21 totaled 305,000, decreasing from the 310,000 revised figure reported for the prior week and landing below the Street's estimate of 325,000. The result is on its eleventh consecutive week of remaining below the 350,000 level that economists say is consistent with moderate labor market growth of about 150,000 net new jobs a month, moreover, it is the second lowest level since September 2007. The initial claims' four-week moving average was 308,000, decreasing from the prior week's average of 315,000.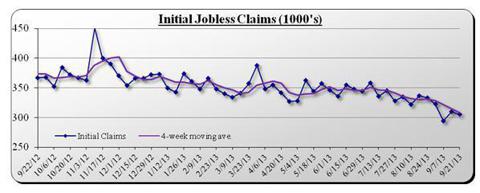 On a slightly negative item, According to the Bureau of Economic Analysis, real gross domestic product (NYSEMKT:GDP) during the second quarter of 2013 increased quarter-over-quarter by 2.5 percent (annualized), worse than the Street's consensus estimate (posed in briefing.com) calling for a 2.6 percent quarter-over-quarter rise. Concurrently, prices for GDP increased by 0.6 percent (annualized), below the 0.8 percent economists' predicted; more on this below.
Later this morning we will be getting a glimpse at more housing sector data, as pending home sales for August is due out at 10 a.m. As it stands housing data has been surprisingly encouraging most recently; new home sales during August rebounded by more than forecast, rising 7.9 percent month-over-month, while economists expected a 6.6 percent rise. Today, the expectations for pending home sales is a decline of 2.3 percent month-over-month, let us see how this pans out
At the moment equity markets are still trending higher in pre-market activity, with Dow Jones Industrial Average futures up 35 points.
GDP
By David Urani
The final reading for 2Q GDP is out, and the headline 2.5% is unchanged from the previous estimate. Once again, it's not superb but it's solid and indicative of an economy driving forward. The estimate for personal consumption was also unchanged at 1.8%. To reiterate, trade in both directions was strong and exports in particular were encouraging, up 8.0% and that outpaced the 6.9% increase in imports. Overall, it's data we already knew with no major tweaks to report.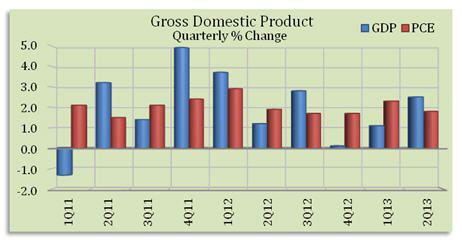 JC Penney Deathwatch
It's been a sad story and at times a laughing stock particularly during the leadership of ousted CEO Ron Johnson who was ambitious in his new vision for JC Penney JCP that saw innovation by the way of a store-in-store format for many of its departments, and even a plan to replace all cashiers with automated checkout over a few years. But in the meantime practices like ending coupons alienated an already dwindling customer base.
The stock was hammered yesterday to a new low and the stock is gapping down once again this morning as the vultures are circling. Yesterday a note from Goldman Sachs was passed around with a very cautious tone that pointed out the company's debt issues and now the Street looks to be in bankruptcy watch on the stock. This morning comes another bearish analyst note from Citigroup who cuts its price target to $7.