Charles Payne Will be Hosting Cavuto on Fox Business Network at 8 p.m. EST
By Carlos Guillen
Despite the fact that the situation in Washington has been resolved for now, stocks appear to not have had much upside from the news; in fact, equity markets as reflected by the Dow Jones Industrial are down over 30 points. It is evident that investors saw this coming and built it into markets yesterday as the Dow ended the session up over 205 points. Now investors are back to looking at economic data, and the initial claims data this morning was just a bad omen of things to come. However, the S&P is up 5 points, or 0.3%.
Clearly disappointing this morning was that more Americans than forecasted filed applications for unemployment benefits last week as California continued to work through a backlog difficulty, indicating it will take time to recover from the impact of the federal shutdown. According to the Department of Labor, initial claims during the week ended October 12 totaled 358,000, decreasing from the 373,000 revised figure reported for the prior week and landing above the Street's estimate of 330,000. The initial claims' four-week moving average was 336,500, increasing from the prior week's average of 324,750.

As we all know by now the last night legislation passed by Congress raised the debt ceiling and funded the government into 2014. This means that hundreds of thousands of federal workers will be back to their jobs, and it may also start the recall of non-federal contractors that had been let go. While that was certainly a relief, economists are estimating that this blip of discontinuity in employment will have a negative impact on yearly Gross Domestic Product of 0.6 percent. This transient disruption in the economy will take some time to damp itself back into a normal state. On the positive side of all this, investors can find some added consolation in the increasing likelihood that the Fed will push back its tapering action well beyond what many had expected.
Commodity Conundrum
By David Urani
So our bumbling government has finally made a deal but if you were just to look at the commodities space you wouldn't know it. The dollar is taking quite the plunge today, down 1% to levels last seen in February. Sure, we've kept the government funded ... for now ... but the whole thing has a left a sour taste in everyone's mouth and that of course includes the rest of the world who sat and watched the supposed pillar of the global economy play a high-stakes game of chicken.
There's another angle to look at with respect to the dollar, however, when you consider the Fed's current position. The typically hawkish Richard Fisher from the Dallas Fed admits that the government shutdown malaise has essentially ruled out an October taper. Certainly the Fed, which likes to make extra certain they have a clear picture of the economy before they make a move, has seen its clarity smeared by the recent events. Likewise, they'll be inclined to wait for the effects to clear so they can make a better forecast. And with that said, it's becoming a realistic possibility that there is in fact no tapering until after the end of this year when new Obama-appointed Fed Chair Yellen takes the reins. And perhaps there's a chance that her dovish stance prolongs that taper even further; we shall see.
The dollar is down 1% against the Euro, and also down 1% against a basket of world currencies.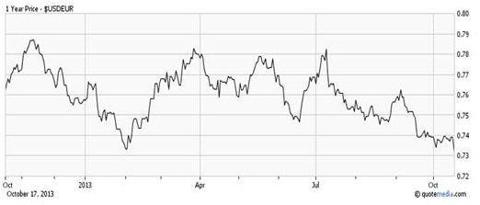 Likewise gold is having a big day, up 2.8% albeit still off of low levels. With the debt ceiling weight now being lifted, investors clear to pursue risk again, and the US now paying its bills on time one could have expected gold to go down.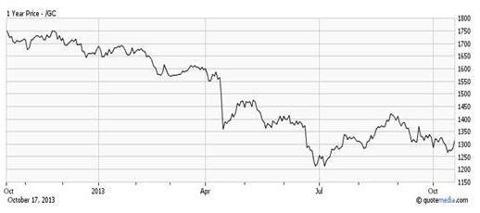 And then there's oil, which seems to be brushing off any idea that the economy is set to resume normal course with the government back in operation; it's down more than $2 and trading a hair above $100. This is the lowest price for oil since July. All said and done, it's possible that government shutdown affected US GDP somewhere in the range of 0.5%. That said, there's some apparent positive development over in Iran, where that country is ready to speak to world leaders about its nuclear program.