"I do not believe it was ever the intention of the French government to do something that would trigger the destruction of entire sections of the French financial industry, trigger a massive off shoring of jobs and so damage the economy as a whole"
Christian Noyer
Central Bank Governor -France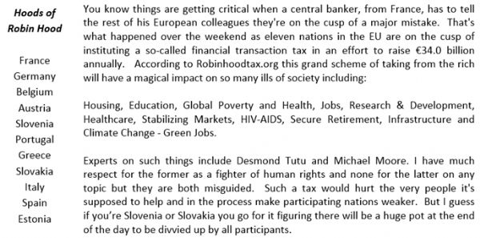 Bill Gates has lent his name to the idea but thinks a tobacco or fuel tax would be more effective (the interesting thing about Gates is while he's donated a lot of money and pledged it all after death he fights fiercely each day to remain the richest man in the world primarily through equity investing). The fact is in the end this will just be another pot of money that gets ground into dust as it makes its way to intended causes and then the grinding process begins anew. It's a punitive tax pushed by people that hate capitalism.
The scales will never be balanced with the paternalistic approach of the left, whose anger at the system overrides any good intentions, even when that very system has served them well. Christian Noyer went on to say the plan posed "enormous risk" for these nations as it could reduce output and dry up the repo market. The fact of the matter is money will find its way to friendlier markets like London, Hong Kong and America.
When the concept of the Robin Hood tax picked up steam the initial goal was raising €200.0 billion annually to give to people that have funds pouring in from other sources. The notion this is social justice or shared prosperity is preposterous. France is a socialist nation and even some are beginning to see the light there as well. No, they still think the meek are meek through DNA and must be helped by taking from the lions of the world that use their superior intellect to steal from humanity. It's an elitist way of thinking that's disturbing and frustrating.
November 8 marks the 766th anniversary of Robin Hood's death and his legend remains. Stealing from the rich and giving to the poor. It was criminal then and it is criminal now. The poor are its biggest victims. In this case, poor cousins in the EU are going to be hurt the most from this stupid policy of legalized theft.
Retail Sales
By David Urani
Retail sales for September are in, and showed a 0.1% decline month to month, a bit below the flat consensus. However, excluding autos and gas, sales were up 0.4% which was above the 0.3% consensus. There has been some variability in autos of late due to producer discounts, thus a 2.2% drop in the month.
Otherwise the results looked solid enough, aside from a 0.5% drop in clothing. Highlights include a 1.0% increase in grocery stores, a 0.9% gain in restaurants, and a 0.7% gain in electronics & appliance stores.
Maybe not a particularly surprising result either way but good enough, and sets a decent tone headed towards that holiday season. That said, October may be a different story given the government shutdown fiasco so it will be interesting to see how consumer health is holding up since then; later today we get the October consumer confidence reading from the Conference Board.