Question of the Day
How different do you anticipate your holiday spending to be relative to last year?
· A lot more
· Slightly more
· About the same
· Slightly less
· A lot less
By Carlos Guillen
Despite the fact that equity markets retreated from the highs of yesterday's trading session, stocks overall still finished slightly in winning territory. Clearly, the retreat in stocks yesterday was precipitated by a report that quoted Carl Icahn saying rather cautious comments. Today, stocks are once again retreating to close below that so anticipated 16,000 mark on the Dow Jones Industrial Average.
According to comments made yesterday by Mr. Carl Icahn, there is a chance the stock market could suffer a big decline, valuations are rich, and earnings at many companies are being fueled more by low borrowing costs than by management efforts to boost results. Even though by now most investors already suspected this, the fact that Carl echoed this belief spooked investors momentarily, derailing the Dow from finishing the trading session above the 16,000 mark.
Last week we saw how rather lackluster economic data and dovish comments from Fed chair nominee Janet Yellen fueled the belief that the Fed will maintain its current level of monetary policy support for the foreseeable future, and that in turn helped lift major indexes to new record highs. So far this week, despite the fact that there is little in terms of home grown economic data bits, we did hear from the Organization for Economic Co-operation (OECD), which conveyed a rather negative economic forecast for the euro zone. According to the OECD, the euro zone economy is expected to grow 1 percent next year after declining an estimated 0.6 percent this year. The forecast was lower than the 1.1 percent the organization estimated in May. The OECD also said that euro zone growth will not be strong enough to make a big dent in unemployment, which currently stands at over 12 percent in the single currency region.
As the week progresses, investors will be looking forward to data on retail sales, retail inflation, and existing-home sales and the release of the minutes to the Fed's October policy meeting on Wednesday, to gauge the strength (or weakening growth) of the U.S. economy. Oh yeah, and let us not forget that the a Senate banking committee panel is slated to vote on the nomination of Ms. Yellen to head the Federal Reserve this coming Thursday.
I Think Icahn, I Think Icahn
By David Urani
With stocks going higher and higher and the bears getting louder and louder in the media, the market feels a bit like the Little Engine That Could, trying and trying to chug higher against a chorus of negativity, at the risk of a sliding considerably back from where it came from if it fails to get over the hump.
There hasn't been a wealth of news out in the past couple of days, so for me the action has been driven somewhat by that psychological battle at the 16,000 level, which may prove to be one of those humps. With investors and the media seeming to have a crisis of whether or not to keep stocks going higher, it's the nice round numbers like these that often serve as a point for the market to pause and re-evaluate. Carl Icahn's bearish comments yesterday probably shouldn't have been met with such a harsh reaction but the fact the market was wrestling with that 16,000 level may have been enough to break the camel's back so to speak, at least for that session. Today we face the same test, with a lack of other news to drive the action.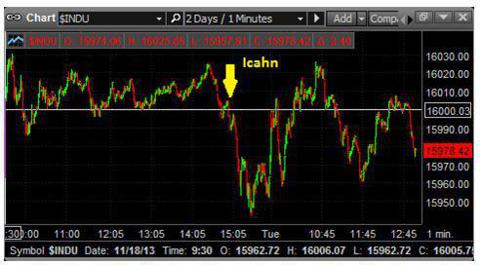 That said, we don't overly concern ourselves with these psychological levels, for us it's going to still be all about companies' earnings. That's not to say risks don't exist though. As we get further into the holiday shopping season there's a spotlight on consumer health. There have been signs the holiday season may be lackluster this year and Best Buy BBY is the latest to put out a word of caution. BBY beat on the bottom line and posted revenue in line but the stock is being hammered by management's outlook. They're wary about the holiday quarter, particularly on margins. They see a 60-70 basis point decline in operating margin driven by increased competition. They also see it necessary to open stores on Thanksgiving, which seems to be a fad this year. As you might recall, Macy's M said last month that it'll be opening up on Thanksgiving for the first time ever.