By David Urani
We start off the Thanksgiving holiday week without a lot of action, which makes sense given that there isn't a lot of news to drive much action anyway. It's been pretty encouraging, and fortunate, how oil has been trending lower and lower over the past few months despite the opposite move in the markets. And we're seeing more of that today as oil is down $1.11 to $93.73, helped by news out of Iran. Iran has agreed for a 6-month deal in which it will allow inspections of nuclear facilities in exchange for some trade sanctions being lifted. Oil prices at this level imply that gas prices can remain around the $3.25 range, which is good news for a consumer that is apparently a little wary this holiday season.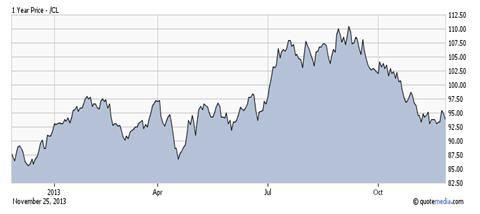 In the meantime, perhaps this low-volume, low-news action today reveals the continued upside bias as stocks are still drifting to new highs. The fact remains that everyday investors are continuing to bring money out from under the mattress and into the market, and in particular there's a lot of money coming out of bonds and into equities.
On the economic front, there was the Pending Home Sales Index from the national Association of Realtors this morning which showed a decline of 0.6% month to month in October to a reading of 102.1 versus the consensus estimate of a 1.3% increase. There were modest gains in the Northeast and Midwest, offset by declines in the South and West. That brings the index to the lowest level since December, and marks the fifth month in a row of declines, which brings it down to 8.3% from the May peak. Pending sales were down 1.6% year over year. It's one more piece of data in a growing pile of housing statistics that show activity is slowing. Housing stocks are down modestly on the day, as it's not good news but it's something the Street has gotten used to. It's more apparent in the volatility of mortgage rates and the overall decline in housing affordability which hit demand in the back half of this year. However, the long-term supply and demand picture continues to show room for recovery in the sector. We're still not convinced this is a fundamental problem in the housing market, so much as it is near-term turbulence driven by interest rate shock.