By Carlos Guillen
Stocks were creeping higher during the pre-thanksgiving trading session as a slew of better than expected economic data points gave investors one more reason to rejoice.
Quite encouraging this morning was that the number of Americans filing for unemployment benefits last week declined below expectations, showing indications of a slowly improving employment backdrop. According to the Department of Labor, initial claims during the week ended November 23 totaled 316,000, decreasing from the 326,000 revised figure reported for the prior week and landing below the Street's estimate of 330,000. Moreover, the initial claims' four-week moving average was 331,750, decreasing from the prior week's average of 339,250.

Perhaps not so great today were durable goods orders, which declined but were not as bad as expected. According to the U.S. Census Bureau, new orders for manufactured durable goods during October decreased month-over-month by 2.0 percent to $230.3 billion, better than the Street's consensus estimate calling for a 2.2 percent month-over-month decline. Concurrently, non-defense capital goods, excluding aircraft, declined by 1.2 percent after decreasing by 1.4 percent in the prior month. These capital goods orders are considered a proxy for future business investment in items such as computers, engines and communications gear, so the decline is indicative of slowing growth in the near term.

Another quite encouraging bit of economic data out today was that the index of leading indicators improved and still appears to be maintaining a favorable short-term uptrend, signaling that still overall stronger housing and a slowly improving jobs market are helping the U.S. economy make more progress in the second half of 2013. According to the Conference Board, its Leading Economic Index (LEI) during October increased month-over-month by 0.2 percent to 97.5, better than the Street's consensus estimate calling for a 0.1 percent month-over-month decline. Just as in September, seven of the ten indicators that make up The Conference Board LEI for the U.S. increased in October.
More significantly, consumer sentiment landed higher than expected after reaching the lowest level of the year last month. The University of Michigan's Consumer Sentiment November result landed at 75.1, higher than the Street's expectation of 73.0, increasing from the 73.2 reached in October. Given the close relation between consumer sentiment and consumer spending, this uptick certainly brings hope that consumers may be more willing to shop this holiday shopping season.

In all, however, despite the earlier euphoria that stemmed from the slew of better than expected economic data points, it appears that this is fading at the moment. Let us sit tight as markets may begin to shake given the low volume trading activity.
Oil Supply Overflowing
By David Urani
We've been noting the downtrend in oil prices over the past couple of months and that continued today, with oil down more than a dollar to just above $92.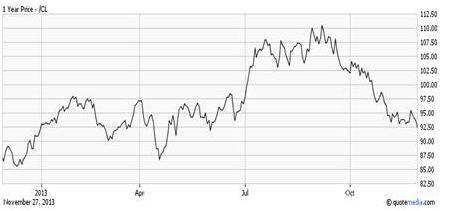 The driver today comes from weekly oil inventory from the DoE, which increased by 2.95 million barrels. That was a lot more than the 750k increase expected by the Street for the week. But even more impressively, it's the tenth week in a row stockpiles are up, and that's only happened 3 other times since 1984.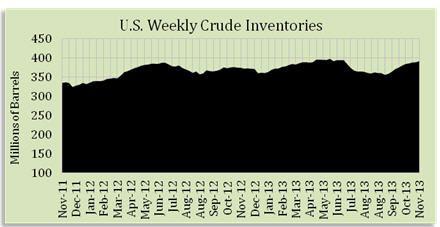 On one hand it could be seen as a warning sign that usage is down, but reports have suggested that is not the case. Instead, the increasing inventories of oil appear to be driven by robust production here in the US which is leading to gluts. That effect is backed up by the low price of American WTI oil (West Texas Intermediate) versus international Brent. Brent oil, at $110.64, is now approximately $18.40 more expensive than WTI, well up from the $3.18 spread in mid-July.
The subsequent easing in fuel prices is also one of the factors that will have helped the University of Michigan's consumer sentiment index to increase from 73.2 in October to 75.1 currently. So if the holiday shopping season comes in strong this year maybe a little bit of credit is due to America's oilfield workers.