By Carlos Guillen
Stocks are having a down session so far in the trading day as investors appear to be looking for any excuse to take profits in fear that a pullback may occur at any time.
Today part of the excuse that has investors taking profits is that a judge said Detroit was eligible for bankruptcy protection. What this means is that Detroit is now eligible to erase billions in debt, making this the largest public bankruptcy in U.S. history. In fact, unions, pension funds, retirees, and other lenders stand to lose approximately $18 billion. The question now is just how this will take place.
Also, not helping stocks get any lift today was news that retail sales during November improved from the year-ago period. According to the Redbook Research Sales Index, sales for the period increased 3.9 percent from a year earlier, compared with a target for a 4.1 percent increase.
What should have enthused investors but failed to do so was that online sales on "Cyber Monday" rose 21 percent from the comparable year-ago day. However, the fact the rate has been declining was not taken too well by investors, as retailers unveiled discounts earlier into the shopping season. This news comes after retail spending over Thanksgiving weekend dropped for the first time in at least seven years, as retailers kicked off sales earlier on Thanksgiving Day and touted discounts all week. Estimated total spending over Thanksgiving weekend declined 2.7 percent from a year ago, according to the National Retail Federation. However, the Federation still projects total holiday sales through year-end to rise by 3.9 percent from a year ago, but this is becoming more difficult to believe.
In all, investors have driven the Dow Jones Industrial Average back below the infamous 16,000 level, and now everyone is asking: could this be the pullback that has been rumored for some time now?
Auto Numbers Looking Optimistic
By David Urani
Today brought auto sales numbers from various automakers for November, and overall it's looking like sales can get near or even pass the 16 million SAAR (seasonally adjusted annual rate) mark for the year (Edmunds has projected 15.7 million). The big three in particular are showing good strength (which is perhaps ironic given that Detroit has just been given the green light to go into bankruptcy). Here's a roundup of some of the automakers' numbers reported so far:
Chrysler Group - Sales +16% to 142,275 units, with the Chrysler Dodge and Jeep brands all increasing. It also gives its own yearly forecast for the industry of 16.3 million units, above its previous estimate of 15.7 million. Edmunds had forecasted +10%.
FORD - Sales +7% to 190,499 units, with retail sales +9%, hitting the best rate in 9 years on strength in the Fusion and F-series trucks. Edmunds had forecasted +3%.
GM - Sales +14% to 186,505 units, including retail sales +19%. They project annual industry sales of more than 16 million. Edmunds had forecasted +8%.
Volkswagen - Sales -16.3% to 30,727 units, but +9.2% month to month.
Toyota - Unadjusted sales (with 1 extra selling day) +10.1% to 178,044 units. Edmunds had forecasted +8%.
Huyundai/Kia - Sales +5% to 56,005 units, helped by a 43% gain from the Sante Fe.
Subaru - Sales +29.8% to 36,621 units.
Nissan - Sales +10.7% to 106,528 units.
While the numbers today do so far look like they can take us back above the 16 million SAAR mark (ran at 15.5 million SAAR in October) we'll still be below the running rates between 2002 and 2006 when sales regularly averaged between 17-18 million SAAR.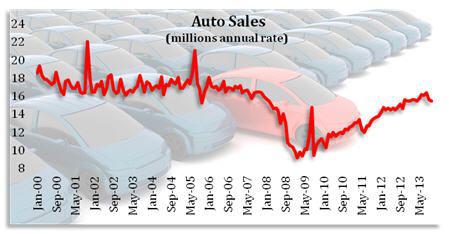 Note: we are holding off on an afternoon Hotline idea.