By Carlos Guillen
Despite lots of oscillations, equity markets are in winning territory at this point in the trading session as it is apparent that end demand is still rather weak given the latest bit of data from the producers.
Perhaps a bit encouraging, from a no-tapering perspective, was that prices paid by producers declined slightly for a third month. According to the Department of Labor, the Producer Price Index (PPI) in November decreased month-over-month by 0.1 percent, in line with the Street's consensus estimate. Excluding food and energy contributions to the price index, core PPI increased month-over-month by 0.1 percent, matching economists' average forecast. From a year-over-year perspective, producer prices climbed slightly but still remained weak historically, with prices up just 0.7 percent. Overall, the data underscores how weak demand in the U.S. and abroad is holding back underlying inflation. Producer prices can give a sense of where inflation at the consumer level is headed, since firms may charge higher prices for goods and services to offset their own cost increases. On a positive note, however, sluggish demand certainly can provide more impetus for the Fed to continue its "accommodative" stance when they meet next Tuesday and Wednesday.

Quite interestingly, the fact that the House passed a budget agreement by a wide margin was sort of ignored by investors today, but perhaps this can help stocks make a move to the upside as the uncertainty over tapering diminishes. However, most on the Street still see some form of reductions to the $85-billion-a-month bond purchase program. And with the NASDAQ, the S&P 500, and the DOW up 32%, 24%, and, 20%, respectively, some profit taking can certainly be expected.
Dry Bulk Revival
By David Urani
Have a look at the Baltic Dry Index, it's a measure of dry bulk shipping rates and it's been coming on strong in the back half of this year. Just in the last three weeks, the index is up more than 50% to a reading of 2,337. It's a typically volatile data set but does illustrate an industry that was left crippled by the global economic crisis in 2008 that is now showing signs of reawakening after a long dry spell. Shippers had placed large amounts of ship orders during the boom years in what was a flourishing global economy, and then were left with way too much capacity when it all fell apart, leading to a plunge in shipping rates and shipper profits.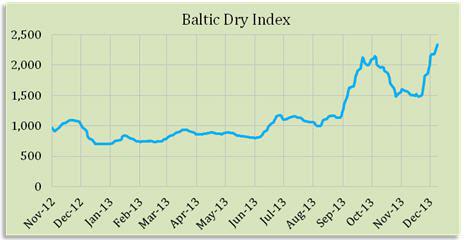 Thanks to a revival in global trade that's taking place now (and helped in large part to iron ore demand in China), that excess capacity is being filled. That combination of recovering demand and increased capacity utilization is a dual-positive for the industry that can lead to big upside should it continue. Back in 2008 the Baltic Dry Index sat as high as 11,000+, which in hindsight was probably too high. But it goes to show there's a large amount of pricing power to be regained, and at 2,337 currently, we may still be in the early stages of this recovery. A good 2014 for the global economy (fingers crossed) would mean big upside for dry bulk.