It's generally a quiet day in the market as there's no major economic data and no corporate earnings. There was an interesting occurency in currency land, however. The euro spiked up this morning, and at one point was up more than 1% versus the dollar, and there may be a couple of things contributing to that. For one, the euro's strength could be the result of dysfunction in Turkey. A corruption scandal is flaring up, where Prime Minister Ergodan is controversially going after the police, who themselves arrested three cabinet members' children. It's got folks protesting in the streets again, and Mr. Ergodan's grip on the country seems very loose at the moment. Separately, it looks as though the ECB is getting a little nervousabnout its low-rate policy as Governing Council member Weidmann spoke against the dangers of low rates and potential need to hike them if inflation picks up.
These factors have the euro at a two-year high versus a basket of currencies, taking the dollar lower. It's not a significant move in itself today, but interesting taken into context with the past week. The dollar is now back to testing its two-year low versus the euro which might be a little counter-intuitive considering that the Fed announced that long-awaited tapering action last week. There was some initial strength in the dollar upon that announcement, but it's faded now. Now it looks as though increased hawkishness from the ECB could keep the dollar from trending up.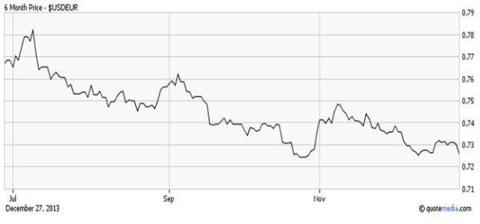 Of course, a cheaper dollar is always supportive of commodities and there's another milestone being hit today. Oil has touched back above $100 for the first time since October. You can't necessarily blame oil for coming back, considering some positive economic readings from the likes of GDP, employment, and durable goods.