By David Urani
The markets are stretching higher in one final hoorah for 2013, and what a year it's been. The S&P 500 is up almost 30% for the year; the best performance since 1997. Perhaps the gist of the action in 2013 was not so much that the economy is doing fantastically, but rather so many issues that investors feared have cleared away. In a way, the fact that the economy is still not living up to its potential is a possible opportunity for 2014. Today we got a couple more data points that add to a big swath of good economic news this month.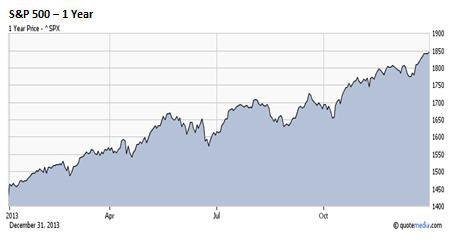 The Conference Board's December consumer confidence index went up, from 72.0 to 78.1, and it's a decent rebound after having slumped in October. Both present situations and expectations rose, from 73.5 to 76.2 and from 71.1 to 79.4, respectively. So moods are back up to healthy levels, although not quite back to September's 80.2 pre-government shutdown level, nor the 82.1 June high for the year.
The Conference Board's index also matches a similar move in the University of Michigan's consumer sentiment index: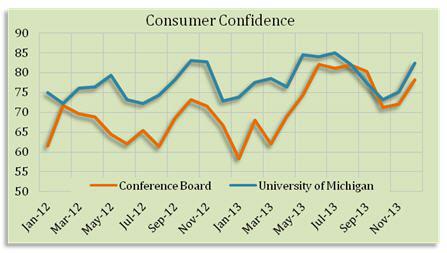 The Case Shiller home price index showed yet another gain for October, by 0.2% month to month. That represents the eleventh increase in a row, and takes the year-over year increase to 13.6%. Overall, the index is still down 19.7% from the 2006 high.
On a year over year basis every city is up, with Cleveland and New York being tied for the smallest increase at 4.9%, while Vegas is the biggest winner at a 27.1% increase, followed by San Francisco at a 24.6% increase. It's those previous bubble cities like Vegas and San Francisco that crashed hardest in the housing bust that are now rebounding the fastest.