By Carlos Guillen
Equity markets are on track to end this trading week in winning territory with the Dow Jones Industrial Average at a new record high! Quite surprisingly, despite some continuing volatility in stock prices caused by still overall worse than expected economic data this week, investors are not remaining in the sidelines, and even if Dow Jones Industrial Average make no gains today, which is unlikely, it will still have gained over 169 points this week.
Earlier this morning, government data showed the economic growth here at home failed to meet expectations. According to the Bureau of Economic Analysis, real gross domestic product (NYSEMKT:GDP) during the fourth quarter of 2013 increased quarter-over-quarter by 2.4 percent (annualized), worse than the Street's consensus estimate calling for a 2.6 percent quarter-over-quarter rise. Concurrently, prices for GDP increased by 1.6 percent (annualized), while economists' average forecast called for a 1.3 percent rise.
However, the less than expected GDP did not serve to spook investors, and quite encouragingly consumer sentiment landed higher than expected and gave investors added enthusiasm. The University of Michigan's Consumer Sentiment February final result landed at 81.6, higher than the Street's expectation of 81.5, higher than the 81.2 reached in January and higher than the 81.2 initial estimate. It is apparent the severe weather conditions have not significantly affected consumer spending, perhaps simply delaying it a bit. Moreover, consumers have also been encouraged by the rather easy avoidance of another self-inflicted government shutdown and policy stalemates as those experienced in the not so long ago past. Quite encouraging as well was that the expectations index increased from 72.7 to 71.2.

In all, stocks continue to move to highs for the session, with the Dow Jones Industrial Average up over 125 points, putting the index on track for its second largest weekly gain this year, a gain of over 290 points.
Pending Home Sales
By David Urani
Following the blowout new home sales result that came out earlier this week showing a new post-recession high, the Street was looking for January pending home sales data (a measure of signed contracts to purchase existing homes) to impress as well. Well it didn't impress, coming in with a 0.1% gain month to month, which was below the +2.3% consensus estimate. It also held at a relatively low level after sinking by 6% in December. Regionally, the Northeast and South actually increased modestly while the Midwest and West were down modestly.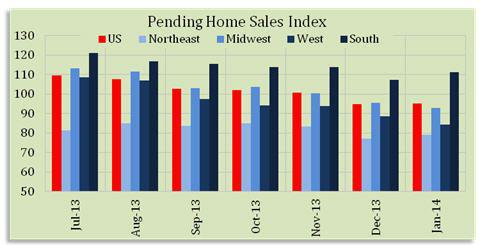 Certainly it doesn't quite match up with that strong new home sales number on Wednesday, which is particularly interesting given that both readings are somewhat forward looking in that they record a sale at the time of order rather than completion. Then again, the new home market and the existing home market (which the pending home sales index tracks) aren't quite the same either.
But I'll also note as I have for much of the recent housing data that January is a slow month for housing and the seasonal adjustments open the data up to significant margin of error. And with that said, the NAR notes in the pending home sales press release that weather is indeed holding back sales still, as is low inventory. If true, both of those factors suggest there may remain some underlying demand in the housing market that's being held back at the moment. I maintain that we'll get a better view of things as the weather warms up and we head into the Spring selling season.