By Carlos Guillen
Despite continuing turmoil in the Ukraine, equity markets are amazingly still gaining as it is apparent that investors do not expect the situation to escalate out of control ... Wow!
Earlier today, the parliament of the Crimean Peninsula voted in favor of severing itself from the Ukraine to become part of Russia, with a referendum on endorsing the move to be held later this month. Quite surprisingly this vote was unanimous, 78 to 0 with eight abstentions. More inciting was that Crimean Vice Premier, Rustam Temirgaliev, has labeled Ukrainian forces as "occupiers" who must leave the region or surrender. Temirgaliev said that starting today, as Crimea is part of the Russian Federation, the only legal forces in Crimea are troops of the Russian Federation, and that any troops of the third country will be considered to be armed groups with all the associated consequences. In response to these incendiary words Ukraine's interim Prime Minister, Arseniy Yatsenyuk said that the move had no legal grounds and that the country's parliament is starting procedures to dismiss Crimean lawmakers and to block a referendum approved today that would ask the region's voters whether or not they want to leave Ukraine for Russia. So the Saga continues.
On economic items, the Department of Labor said initial claims during the week ended March 1 totaled 323,000, decreasing from the 349,000 revised figure reported for the prior week and landing below the Street's estimate of 333,000. The initial claims' four-week moving average was 336,500, decreasing from the prior week's average of 338,500. And according to the U.S. Census Bureau, new orders for manufactured goods during January decreased month-over-month by 0.7 percent to $483.0 billion, worse than the Street's consensus estimate calling for a 0.5 percent month-over-month decline. Concurrently, new orders for consumer goods declined by 0.6 percent, after decreasing by 0.2 percent in the prior month, and non-defense capital goods (excluding aircraft) rose by 1.5 percent, after decreasing by 1.6 percent in the prior month.
In all, despite the fiery situation in the Ukraine and the rather mixed economic data points presented today, the Dow Jones Industrial Average is up over 70 points. Perhaps the Dow is up as hopes are building ahead of tomorrow's jobs number or perhaps it is that investors believe that the Fed will remain accommodative just like the ECB, whatever the case, we are not complaining.
No Jobs? Snow and Yellen will make it Okay
By David Urani
And so we find ourselves going into tomorrow's job report having had a run of lackluster economic data all month long. Thus, you wouldn't necessarily expect tomorrow' number to blow you away, and likewise the Street doesn't either. The consensus calls for a monthly gain of just 150,000 nonfarm jobs which certainly isn't strong, although it would be an improvement from the disappointing 113,000 figure from January.
Today we got one of my favorite real-time indicators in initial jobless claims, which were actually quite good for the final week of February, showing 323,000. That's the lowest level of claims since late November. However, the four-week average of jobless claims spanning February stayed at 337,000.
So that gives us somewhat of a mixed picture heading into tomorrow, but claims have been correlating quite well with the unemployment rate for the past few years and the recent divergence (pictured below) doesn't make me particularly optimistic about tomorrow.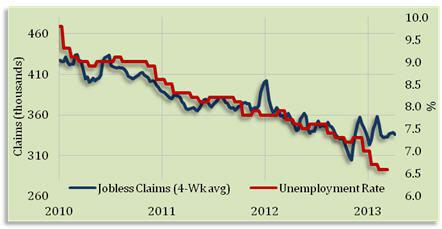 Of course, this time around the market seems to have the ultimate mulligan excuse in the harsh weather. The weather caveat has been tossed around with just about every economic release under the sun and tomorrow it will be no different. Take for instance yesterday's Fed Beige Book report which mentioned "weather" no less than 119 times. Not to mention, Mrs. Yellen could always keep her foot on the gas if the result is too frightening. Consequentially, tomorrow's report may have to be exceedingly bad to actually drive the market down.