There is yet another side drama brewing on Capitol Hill as Christopher Dodd (D; CT) is pushing hard for an uber-regulator to watch over the financial industry.  His pursuit flies in the face of the President, who leans toward the Federal Reserve dusting off Depression era rules and developing new ones to shackle the financial industry. It's a situation where more than likely banks and Main Street both lose because loans are going to be tougher to come by, bank earnings are going to be constrained, and the wheels of commerce will turn with the speed of a tortoise coupled with the caution of an armadillo.  In other words, the outcome is going to be scary either way.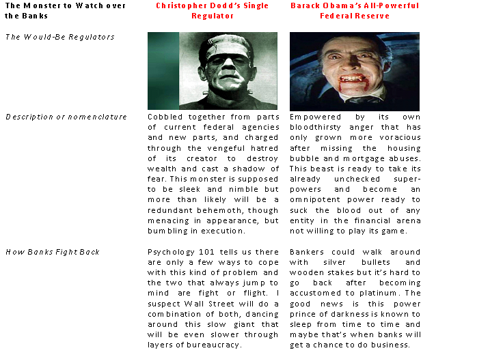 Mary Shelly and Bram Stroker understood human fallacies and present complex questions when they wrote the stories of Frankenstein and Dracula; one of the things people do is lash out when they're afraid or wrong.

 

There are already so many rules in place that it's a cop out to suggest what's needed is a monster to terrorize banks from coast to coast.

 

I think that the smart guys (read those very Wall Street firms that are really at the heart of the debate) will, sooner or later, run circles around regulators.

 

But, the small banker that has tried to mind his own business and not get too fancy with higher-risk products will feel the pain.

 

If they feel the pain it goes without saying that almost anyone reading this piece will feel the pain, too.

 

Goodbye American dream hello a world without boom or bust; if you're not at the economic level you seek now you may have to get used to it, unfortunately.
The Market
Yesterday, the Dow Jones Industrial Average was lower but the NASDAQ composite was higher, lifted by strength in biotechnology stocks and networking stocks. Another very compelling sector was the airlines, which acted better than even the correlated move with crude oil could explain/justify.
It's mindboggling how far the airline stocks have come.  To put it in perspective, the hot move in gold is really just a puny move, and the precious metal would have to rally to $3,000 an ounce to match the recent rally in one of the countries least healthy sectors. I'm not sure if the move is more reflective of the past than the future. The sector was beaten down miserably. Still, this move is more compelling than most of the so-called "green shoot" economic data seen this year.

AMEX Airline Index
Technology stocks have quietly regained form that underscores why they are favorites of investors looking to hit the homerun.  No niche of technology has been more impressive than networking stocks, a group whose woes go back to the disintegration of telecommunication stocks in 2001 and 2002.
 
AMEX Networking Index
It felt like the market would be higher today no matter the news, and so far it looks like today will follow the recent script.  Speaking of script, word is out today that Bank of America (NYSE:BAC) will pay $425.0 million to get out of the emergency guarantee program that saw taxpayer cash setup to backstop $118.0 billion in assets (mostly Merrill Lynch). This is a tiny sum when one considers what was at stake.  It's great news for Bank of America and its shareholders, but the amount is a farce and slap in the face of taxpayers. In the meantime, bank loans to businesses and households decreased for the fifth straight month to $6.85 trillion. 
Then there's this…the NY Times is saying that the FDIC might borrow money from banks. Say what?  I guess quid pro quo or one hand washing the other.  When Judge Rakoff said that the relationship between the SEC and banks was "cynical" that was an understatement, and it should have widened to cover government and banks.
Color On Lowe's News

By: Brian Sozzi, Research Analyst
Lowe's (NYSE:
LOW
) has been prematurely optimistic on more than once occasion since the housing downturn began. With the focus on driving efficiencies, and market conditions that should incrementally become more favorable (foreclosed homes will need to be rehabbed) I believe Lowe's has set forth an achievable, if not beatable, guidance foundation for 2010 at its investor conference today.
Written by Charles Payne, CEO and Principal Analyst of Wall Street Strategies (wstreet.com) providing information to over 30,000 subscribers, in more than 60 countries as well as several of the largest bank/brokerage firms. Charles is a regular contributor to the Fox Business and Fox News Networks.  In addition, he continually provides opinions on the market to scores of prestigious news organizations such as Reuters, Wall Street Journal, and the New York Times and has been the keynote speaker at many investment conferences worldwide. Charles' new book, "Act Fast, Be Smart and Get Rich" debuted in April 2007.