So Let It Be Written, So Let It Be Done.
-Pharaoh
The Ten Commandments

This week, Bankrate.com published a poll on Main Street's appetite for investing (conducted by Princeton Survey Research Associates), which revealed 73% of adults are no more inclined to invest in the stock market right now, than in the past. I know there is a notion that there is this voracious Main Street appetite for stocks because major indices are at or near all-time highs, but that notion is completely off base. Ironically, the masters of the universe, who mostly "say" the market is going to crumble, continue to make piles of money ... in the stock market.
However, it is a wonderful thing when you can talk up your book, and for a period of time are guaranteed success as individuals, while others follow your lead (and established position). The New Pharaohs are so powerful that they are going after the biggest companies and are dancing in the grey areas of the security rules and laws. Track records do not matter at this point, because these guys have the world in the palm of their hand:
* Build a massive position in a company and then get another company to launch a takeover bid - whoa! That is a heck of a trick.
* Go short a stock then get lawmakers to launch investigations, which taints that company and its underlying shares.
* Bully, intimidate, campaign, and now collude, all done in plain sight. These guys do not want to be lumped in with the greenmail crowd that once shook down companies for quick scores. These days their prey or targets are laid-out with professional rationale (save the notion of shorting Chipotle Mexican Grill because of Taco Bell), and slideshow presentations. It is all on the up and up, and the only thing is that every stock not in their scopes is overbought, and ready to crash.
Talk about an amazing feat - they do a nuts and bolts evaluation of their targets, along with all the other publicly traded stocks in the market, too.
Alternative Agendas
Moreover, I find many of these market masters to be serious limousine liberals that pump gobs of money into politics, make billions in the stock market, pay lower tax rates than I do, and still get a free pass in the press. Late yesterday, David Einhorn said that people should be afraid of what high-frequency trading is doing, and should only use IEX.com, mentioned in Michael Lewis' book. He also said that this is the second tech bubble in 15 years, even if there are fewer bubble names, and the enthusiasm is tepid compared to 2000.
In the meantime, the interesting thing about crashes and panic is that a firm like IEX.com would see its revenues surge exponentially. Einhorn was good enough to admit that he does have an exchange in that venture. He did close out shorts on Chipotle and Michael Kors two retail operations, that he obviously never stepped inside of because one would not need an analysis to see the kind of energy and loyalty their customers have toward them. (Even great and hot businesses can have overvalued stocks, but in the last two years, it would have been a huge mistake betting against those two names.)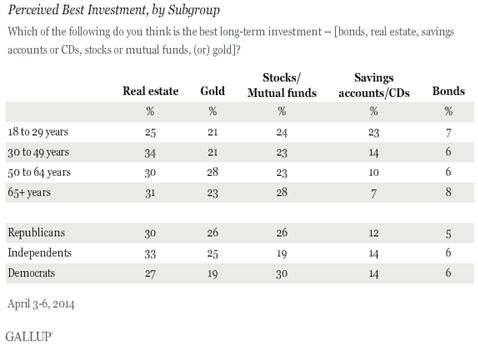 Nevertheless, trying to play alongside the big boys with all their fancy tools and advantages has taken a toll on investors and would-be investors. The key for investors is not to "play" the market. In the end, great companies will have great share prices.
Meanwhile, I am sad for young Americans who waste their youth stuffing their money under their mattresses, or in savings accounts, only to watch their money lose purchasing power every day.
What could the GOP learn from Harley-Davidson?
As republican strategists lick their chops over the prospects of snatching the Senate, many behind the scenes are naturally worried about the propensity of the party to snatch defeat from the jaws of victory. The upcoming midterm elections look like an even greater layup than did the Presidential election that brought back the incumbent with the worst economic performance and poorest polls in history. This is not a new phenomenon. In fact, this is something the GOP has perfected over the years: fumbling the ball, a couple yards from the end zone.
It was about twenty years ago, when I was at a telecommunications event at the request of a company in which I was invested at the time. It was a big deal, held at the famous 21 Club in Manhattan; the keynote speaker was Representative Ed Markey of Massachusetts (now Senator). The central theme of his speech was discontent; he referenced the Million Man March becoming a multimillion men and women march of different races and religions.
At the time, George Bush was riding high in the polls, so later that afternoon, as everyone was mingling, I asked Markey how the Democrats could beat him and the GOP. He replied with cheer and confidence, "they'll beat themselves." For couple of decades now, the party has mostly shot itself in the foot. Consequentially, the nation is in the midst of a tug-o-war that could derail our greatness, and relegate future generations to lives of limited achievement, as they pay off mountains of debt and fund the welfare utopia.
No RINOs, No Pandering
I get the idea that some republicans seem more like democrats, or are too concerned with holding onto their own political power rather than forging real change based on ideology. However, I am not sure that it is smart for republicans to go completely jihad on themselves ahead of major election cycles. Nevertheless, that is exactly what is going to happen, and I think a couple winnable seats will be lost in the aftermath. Then there is the narrative that luring non-GOP voters is akin to pandering - a four-letter word after Mitt Romney lost.
Anyone in sales or investing in the stock market understands it is all a numbers game. Moreover, it is about being smart for the future, and not living for the moment. Stocks that beat earnings estimates and offer weak future guidance, more often than not, get smoked. It is actually better to post a subpar earnings result and promise better news in the future. This line of thinking seems lost on several GOP strategists. For them, it is about getting out the base, even as that base shrinks in the fast ever-changing demographics.
That might work in the midterm election cycle this year, but what about the next presidential election, and the one after that, and so forth?
Harley Big Tent
Long before the broad market melted down in late 2008-early 2009, shares of Harley-Davidson were in complete freefall. Peaking at $77.00 in November 2006, the stock crashed down to $10.00 by February 2009. Management got the message loud and clear and embarked on a plan to get more Americans to buy their product. The company focused on four groups: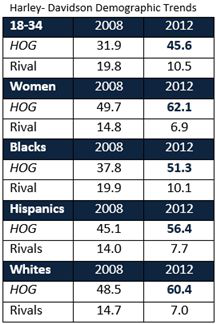 * 18- to 34-year-olds
* Blacks
* Hispanics
* Women
Harley made real marketing efforts, which resulted in real results. From 2008 to 2012, sales among those four segments of the population have outpaced the core 35-year-old white male by 100%. Now, Harley's street bike is number one for each group, sending market share up dramatically (see sidebar).
If a product is great and people do not know that it is great, they need to be told or sold. Calling them dumb or low-information is actually dumb and lazy. In business, companies cannot afford to draw lines in the sand and dismiss potential customers, although more than a few have tried.
The big question for America is how much longer it can endure policies and rhetoric which attack the very essence of our success. America cannot afford anymore-punitive actions that punish success, raid corporate balance sheets, and makes excuses for failure while rewarding mediocrity. The American story is amazing and needs to be told and re-told. Sure, it means a stronger push and long-term marketing to non-believers. According to the Harley Davidson's management, America will look a lot differently by 2050.
* 200 million non-traditional Harley buyers
* 50 million traditional Harley buyers
Translate that into votes, and getting your base to the polls will not mean anything.
The Market
Equity futures have edged higher this morning as the earnings parade rolls on. I haven't seen a single miss on the bottom-line and fewer top-line misses than in preceding quarters (Sketchers posted the most amazing report, and I will feature them in a piece tomorrow on reinvention and redemption). By the same token, most of the large names have beaten the street by small amounts over consensus.
Dow Jones Earnings

How to Read an Income Statement Part I
Dow Chemical
Highlights
Most times I see companies began their earnings release with the earnings per share number, they beat the Street estimate and then feel some kind of redemption. Dow Chemical has been under fire from an activist shareholder (yes, one of the "Pharaohs" of Wall Street) so they start out by showing the world that they beat consensus estimates by $0.08 (they know that anyone reading this knows the estimate).
Plastics had pricing power.
Coatings "outpaced" the market - another way of saying that they took market share.
Sales were strong in a difficult market: China
Our shareholders are getting paid big time to hold our stock and keep in current management…so stuff it, activist investors.
First Quarter 2014 Highlights
The Company reported earnings of $0.79 per share. This compares with earnings of $0.46 per share in the same quarter last year, or adjusted
earnings(1) of $0.69 per share - a 14 percent increase versus the year-ago period.
Sales were $14.5 billion, up 1 percent versus the same quarter last year. Performance Plastics drove sales gains, up 6 percent on an adjusted basis(2)due to higher prices. Higher volumes in Coatings and Infrastructure Solutions outpaced the market, resulting in a 5 percent increase in sales for the segment.
Emerging geographies grew sales 3 percent on an adjusted basis, led by volume growth in Greater China (up 7 percent). Price gains in North America were offset by volume declines, reflecting weather- and transportation-related impacts in the quarter. Sales in Western Europe increased slightly due to volume growth of 2 percent.
EBITDA(3) was $2.4 billion, compared with $2.2 billion or $2.3 billion on an adjusted basis(4) in the year-ago period. Increases were reported in most operating segments, led by gains in Performance Plastics, Agricultural Sciences, and Coatings and Infrastructure Solutions.
Adjusted EBITDA margin(5) expanded more than 60 basis points to 16.6 percent on a year-over-year basis, with increases reported in all operating segments except Feedstocks and Energy. Margins expanded despite a more than $300 million increase in purchased feedstocks and energy, due to continued emphasis on productivity and cost-control actions.
Cash flow from operations increased nearly 30 percent versus the year-ago period, reflecting the Company's productivity actions to increase working capital efficiency and to reduce costs.
Dow continued to drive shareholder remuneration actions, returning $1.7 billion to shareholders in the quarter through declared dividends and share repurchases.